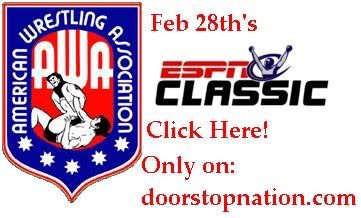 AWA on ESPN Classic March 4th 1986 @ Showboat Hotel in Las Vegas, NV

Here is The Central states rookie of the year.....
Shawn Michael's! YES that's right! holy crap!
He looks like Ope from Andy Grifth no joke he looks like he's 8 years old!
he's chubby here I was so badly marking out I didn't''t catch the jobbers name he's facing!
Shawn does all the moves he does now a days! WOW this is crazy!
Shawn then gives the jobber a super kick and goes to the top elbow
1,2,3 WINNER: SHAWN MICHAELS!

COMMERCIAL

Doug "Pretty boy" Summers vs. "Big" Scott Hall
Holy crap this is Scott Hall! Yes this is the Scott Hall wow
Scott Hall really does look like a 1970's porn star this is amazing
Scott is also the AWA tag champ along with Curt Henning!
Curt is ring side Curt has a beard! yes a beard he looks so weird!
This is awesome ESPN CLASSIC RULES!!! Now onto the match I BTW if you
didn't know I'm a HUGE Scott Hall Mark I made Scott Hall prank phone calls there on youtube!
Now on to the match.... roll up to Scott 1 count knees to Hall's face schoudler block to Hall
damn Hall is getting his ass beat here...
never mind, hall is coming back with a bunch of moves I can't even keep up
Summers then reverses it into a back suplex 1,2 Hall kicks out
hip toss to Summers Hall then slams Summers 1,2,3 WINNER: SCOTT HALL

COMMERCIAL

I assume Scott Hall and Curt Henning are faces here since there so over with the crowd!
YES a Scott Hall promo! Scott Puts over Summers and the match.. BTW Scott is dressed like a cowboy!
Curt then cuts a promo saying how Scott saved him from a attack a few weeks ago Curt then says how
his throat still hurts him from the attack Curt then says he's coming for Stan Hansen!

COMMERCIAL

A segment called In this corner with... and this special is with Marty Jannetty
for some reason Larry Zybysco and Larry puts over Marty They then show a Marty Jannetty piece
which shows Marty giving like 20 people cross body's and in the background there playing
disco/techno music for some reason lol this is awesome! Here's Marty! Marty says he is going to team
with Shawn Michaels and how there going to be called the US Express Marty then says he needs to come up with new moves
since alot of the wrestlers in the AWA are bigger than him Larry there says how Marty is mumbling and Larry makes fun
of what Marty is wearing and Larry says how Marty needs to have self respect and to go on a mean streak
Marty then says this is the 80's and people Can dress how ever they want and how when Larry is in the ring with him Larry will find out
COMMERCIAL

They goto a Match between Bruiser Brody and Jerry Blackwell
Brody attacks Blackwell with a chair and Sheik Agnon El Kasey attacks Blackwell
They go back to the current show and they say when we come back there is going to be a match between
Boris Zukof and Jerry Blackwell
COMMERCIAL
Boris Zukoff W/ sheik Agon El Kasey vs Jerry Blackwell the ring announcer mentions how the special referee is Scott Ladue
(My VCR is messing up right now so I'm fixing it, for about a minute I'm fixing it and I'm back)
They put over how Jerry Blackwell is 474 pounds...
There's a Russia sucks chant and then a Sheik is a Freak chant!
This isn't a 5 star match hell this isn't a 1 star match
this actually sucks this is typical 1980's USA vs. Russia bullshit..
in this match there like I don't know how many eye rakes/punches....
In the all these punches I guess one of them were too stiff and broke Boris' nose
Blackwell then gets a rush from the crowd Boris goes to the top and falls!!! LOL
There's one for botchamania!!!! LOL that is great! Blackwell then gives him a splash
1,2,3 WINNER: JERRY BLACKWELL

COMMERCIAL

Jerry Blackwell promo he puts over the USA Blackwell then says he just kicked the shit
out of Boris he did say shit they bleeped it out! and that's it they show the credits and that's all!



OVERALL: I marked hard for the old Shawn Michaels wow he looks like he is 8! Scott Hall was awesome!
Scott is one of my all time favorites! The rest of the show made no sense!
Now AWA is better than UWF by far, but UWF was more entertaining. BTW for those watching you do not have to be buzzed to watch this show.
This show is pretty good actually so put away your booze! Thanks see y'all tomorrow!