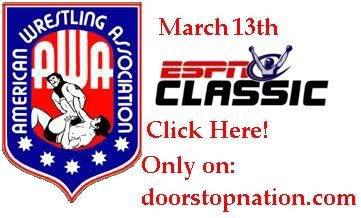 AWA ON ESPN CLASSIC MARCH 13TH

TAPED ON DECEMBER 21ST 1986 @ Showboat Hotel Las Vegas, NV

Tom "Rocky" Stone vs. Super Ninja W/ Larry Zbysko eye rake to Tom
chops to Ninja
boots to Tom
headlock to Tom elbows to Tom
suplex into a bridge 1,2,3 WINNER: SUPER NINJA
promo with Larry Zbysko Larry says how he and Ninja have alot in common they both hate Nick Bockwinkle and how there going after the AWA title!
Larry then tells the crowd to shut up! He then challenges Nick Bockwinkle.....again
COMMERCIAL

Match in Progress it's Ken Glover vs. Greg Gagne!
arm bar to Ken
hammerlock to Greg
headbutt to Greg elbows to Greg 1,2 kick out knees to Greg
punches to Greg
backdrop to Ken
head scissors to Ken
drop kick to Ken
drop kick to Ken
knee drop to Ken
1,2,3 WINNER: GREG GAGNE!
Greg Gagne promo Greg says how he needed to knee drop to Ken, to finish him off, then Greg says he's going after the AWA title!
he says Jimmy Snuka will be back soon, but now he will be with Jerry Blackwell and there going after the AWA tag titles!

COMMERCIAL

Now For NO GOOD REASON Lets' goto Wrestlerock 86 April 20th 1986 Metrodome Minneapolis, MN
It's a midget match! (before people say I'm being insensitive calling this a midget match, well that's what there calling it sorry)
Cowboy Lange and Little Mr. T vs. Lord Little Brock and Little Tokyo
(This is freaking horrible, god-awful I mean just terrible, horrible, words can't describe)
BTW this is a match in progress so we start with... Lord Little Brock putting Cowboy Lange in a arm bar
Little Mr. T is finally tagged in...
hip toss to Lord Brock
dropkick to Toyko
(For no reason the Camera is zooming out and showing the whole Metro Dome though out this match, so it's hard to describe the moves)
headlock to Tokyo
headlock to Little Mr. T
backdrop to Little Mr. T backdrop to Little Mr. T
airplane spin to Lord Brock
ALL MIDGETS ATTACK THE REFEREE!
head scissors to Little Brock 1,2,3 WINNERS: LITTLE MR. T AND COWBOY LANGE!
(BTW announcing the winners is Legendary WCW Ring announcer Gary Michael Chipptaia)

COMMERCIAL

Sheri Martel vs. Killer Tomato
arm bar to Tomato headlock to Tomato
head scissors to Tomato
firewomans carry to Sheri airplane spin to Sheri
clothesline to Sheri
splash from the top to Tomato 1,2,3 WINNER: SHERI MARTEL

COMMERCIAL

Don Fargo vs. Brad Rheigens
(I think this match happened a week or two or go, but what the hell I'm reviewing it again!)
arm bar to Brad forearms to Brad elbows to Brad
On Commentary Lord James Blaron says how AWA Wrestling is the number 1 sport in the world!
Then Ron Trongard puts over the AWA saying how the AWA is the Superbowl the World Series and World cup rolled into one!
dropkick to Don
schoulder block to Don 1,2,3 WINNER: BRAD RHEIGENS

COMMERCIAL

(Now they show a match they aired yesterday for NO REASON!)
Mike Richards vs. Col. Debeers
headlock to Richards boots to Richards
arm bar to Richards Front face drop 1,2,3 WINNER Col. Debeers
(What they did NOT air yesterday was the Col. Debeers promo! This is a different promo
Col. Debeers promo Col says he ended Jimmy Snuka's career and how Snuka will never come back! Col will never respect Snuka over his color!
Col then says the only thing Jerry Blackwell is good at is the dinner table!
And Jerry Blackwell is from the south, the south which lost there war, the south fought over a right cause!
credits

OVERALL: "WOW, well not much to say here, but wow, really a midget match which they called it, damn near put me to sleep! And well the Sheri Martel
match almost put me to sleep to, huh well The Col. Debeers promo could not be done today I know that LOL
BTW the views of Col. Debeers is not of doorstopnation.com or angrymarks.com have a good one see y'all tomorrow! - Joe"