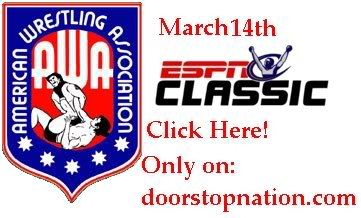 AWA on ESPN Classic March 14th
Taped on December 7th 1986 @ Showboat Hotel Las Vegas, NV

Spike Jones and Sunny Rose vs. Gordyenco and Alexis Smirnoff
(There's a Russia sucks sign in the crowd...how fucking original)
arm bar to Spike
(There's a Russia sucks chant for the 1323 time)
backdrop to Spike suplex to Spike
suplex to Sunny
Gordy and Alexis throw Sunny into the ropes
1,2,3 WINNERS: GORDYENCO AND ALEXIS SMIRNOFF
Gordyenco and Alexis Smirnoff promo (Why?)
Gordy mentions how the referee tripped over him during the match...
Gordy then puts over Russia and how Americans are stupid, you know same shit LOL
Gordy then says he and Alexis are going after the AWA tag titles!


COMMERCIAL

Pete Sanchez vs. Jerry Blackwell schoulder block to Pete
schoulder block to Pete
Jerry rakes Pete's eyes across the top ropes! (There's a old-school move nobody does now)
Jerry clotheslines Pete
dropkick to Pete
slam to Pete 1,2 kickout
Samoan drop to Pete 1,2,3 WINNER: JERRY BLACKWELL
Jerry Fatwell oh I mean Blackwell promo yeah he says he's back and he is going to kick some you know what
he means ass Then the Fat man says his little brother is coming to the AWA! Whatever..


COMMERCIAL

Tom "Rocky" Stone vs. Super Ninja W/ Larry Zbysko (Yes This match happened yesterday)
eye rake to Tom
chops to Ninja
boots to Tom
headlock to Tom elbows to Tom
suplex into a bridge 1,2,3 WINNER: SUPER NINJA

COMMERCIAL

Tony Legoni vs. Greg Gagne (Yes this match happened on March 12th)
hip toss to Tony arm bar to Tony
Punches to Greg chops to Greg
Indian death lock to Tony
drop toe hold to Tony
dropkick to tony
knee drop to Tony 1,2,3 WINNER Greg Gagne
Greg Gagne promo Greg says he's got Jimmy Snukas' back and how he and Jerry Blackwell are together now!
Greg then puts over his dropkick and how he is going after the AWA title!


COMMERCIAL

Jimmy Snuka footage it shows Col. Debeers attacking Snuka Col. Threw Snuka off the top turnbuckle!
Snuka is now cutting a promo on how he almost broke his neck!
Snuka then says how Col. Debeers made the biggest mistake of his life!
Snuka claims how this didn't just hurt his neck it hurt his soul!

COMMERCIAL

Now Let's goto November 23rd 1974 it's Nikolai Volkoff vs. Larry the "Axe" Henning
On commentary is Gary Nelson (backstage interviewer and ring announcer) and Curt Henning
There not really talking about the match and this match is extremely hard to follow they just keeping talking
about Larry the Axe yeah yeah I know legend OK.....

COMMERCIAL

Rick Gartner vs. Curt Henning
(I'm going to be honest with everyone here I fell asleep right when this match started, LOL I know, but I woke up to see Curt won
and Curt cut some promo on how he is going for the AWA title!)
OVERALL: "One of the worst episodes so far, prolly the worst so far, There showing matches that have aired! I fell asleep!
The last time I fell asleep while watching wrestling was when I was watching TNA hey that was earlier tonight, hmmm OK well I'm off to Bed! I was asleep on my couch
Then I realized I wrote all this I had to type it all and email it to Stevie J or he would hunt me down and take my Scott Hall Beer Koozie Cup! See Y'all Tomorrow! - Joe"