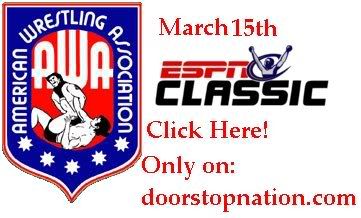 AWA on ESPN Classic March 15th
TAPED ON: March 11th 1986 @ Showboat Hotel in Las Vegas, NV

Here is The Central states rookie of the year..... Shawn Michaels!
Shawn Michaels vs. Doug "Pretty boy" Summers
side suplex to Shawn
punches/forearms to Shawn
knees to Summers
suplex to Summers armbar to Summers
splash from the top to Summers
1,2,3 WINNER: SHAWN MICHAELS!

COMMERCIAL

Shawn Michaels promo Shawn puts over his splash and how nobody will ever kick out of it Shawn then puts over Jose Lathero, and of course Shawn puts over the AWA saying how the AWA has the best wrestlers and how the AWA is the number one promotion! Shawn claims he's ready for Stan Hansen and a shot at the AWA title!

COMMERCIAL

Boris Zhukov and The Barbarian W/ Sheik Aganon El-Kasiey vs. Marty Jenniety and Curt Hennig
chops to Marty
hip toss to Boris armbar to Boris boots to Curt
backdrop to Boris chops to Boris back breaker to Curt
armbar to Boris
Boris throws Curt over the top
WINNER VIA DQ: CURT HENNIG AND MARTY JENNITY
(BTW this is the 80's and throwing your opponent over the top rope is a DQ for you younger fans)


COMMERCIAL

Leon "Baby Bull" vs. Larry Zbyszko (Now what a horrible nickname for Leon White Baby Bull? Baby Bull? Horrible...)
headlock to Larry slam to Larry
Leon goes for a splash to Larry and misses
boots to Leon
Leon throws Larry into the Turnbuckles
3 point stance to Larry
Leon and Larry go outside the ring
Larry enters the ring
WINNER VIA COUNT OUT: LARRY ZBYSZKO

COMMERCIAL

David Sammartino vs. Stan "The Lariat" Hansen For the AWA title
armbar to David boots to David
hip toss to Stan slam to Stan
head scissors to Stan
hip toss to Stan
headlock to David
school boy to Stan 1,2 kick out
splash to Stan 1,2 kick out
dropkick to David clothesline to David 1,2,3
WINNER AND STILL AWA CHAMPION: STAN HANSEN

COMMERCIAL

Stan Hansen promo Stan says how he knows everyone is going after him, but now he is going to
celebrate! Stan says he is going to back to Texas and going to buy Josh some shoes (Who in the hell is Josh?)
Stan then says he gives credit to David and Bruno would be proud, but Stan Hansen is better than both David and Bruno
credits

OVERALL: "OK, David Sammartino vs. Stan Hansen, wow I dunno how I kept awake, at least this episode didn't have midgets or any
re-run matches! I have to say I was kinda sad not to see any jobbers sometime it's fun to watch a jobber match....See y'all on Tuesday! - Joe"