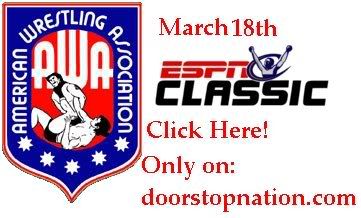 AWA ON ESPN CLASSIC MARCH 18TH

TAPED ON MARCH 25TH 1986

Jesse Hernandez vs. "Playboy" Buddy Rose W/ Sheri Martel
(both of these wrestlers were jobbers in WWF so this a dream jobber match)
slap to Jesse
Rose goes outside the ring and Sheri combs his hair
Rose throws Jesse in the turnbuckle
armbar to Jesse elbows to Jesse
DDT to Jesse 1,2,3 WINNER: PLAYBOY BUDDY ROSE
Buddy Rose promo Rose puts over his new move he calls it the Hit the Jackpot
Rose then puts over Las Vegas and then does push ups and claims nobody in the crowd
can do push ups like him Sheri then says how she wants the AWA women's title back!
COMMERCIAL

Bill Anderson vs. Colonel Debeers
arm bar to Bill boots to Bill
slam to Bill elbow drop to Bill 1,2 Col. puts Bill's foot on the rope LOL
suplex to Bill 1,2 Col picks up Bill
knee drop to Bill Col picks up Bill
front face drop to Bill 1,2,3 WINNER: COL DEBEERS
COMMERCIAL

Stan Hansen promo Stan tells Larry Nelson to shut up
Stan puts over David Sammartino and says he will take on all comers
and he will at Wrestlerock 86 and he will win next week against Leon White
COMMERCIAL

Has Dehass and Alex Knight vs. The Midnight Rockers
firemans carry to Alex
armbar to Alex
knee drop to Has
crossbody to Has 1,2,3 WINNERS: THE ROCKERS
Nick Bockwinkel promo Nick says at wrestlerock he will win and regain the AWA title
COMMERCIAL

Here's a promo with Verne Gagne Verne puts over the AWA and then he puts over wreslterock and claims
it will be the greatest event ever! And then Verne puts over Waylon Jennings!
Now for a match that happened a few weeks prior to March 25th, 1986 it took place at the St. Paul Civic Center
it's...
Brad Rhiegens vs. Masked Man W/ Sheik Aganon El-Kaisey
the match is hard to follow since there both outside the ring and the camera work, until Greg Gagne comes out
and starts to beat Sheik with his shoe! Then Greg unmasks the masked man the masked man is.... King Kong Brody
(Why was he in a mask? We knew it was either him or The Barbarian)
anyways Greg then gets knocked out out comes Verne Gagne and Verne beats the hell out of Brody
COMMERCIAL

Boris Zhukov and The Barbarian vs. Scott Hall and Curt Hennig for the AWA tag titles
slam to Barbarian
punches to Boris
elbows to Boris
slam to Scott
slam to Barbarian
crossbody to Barbarian
dropkick to Barbarian
(the bell rings for no reason, oh wait the Sheik rang it to fool the other team)
elbows to Boris
slam to Curt
elbow from the top to Curt
WINNERS BY DQ: CURT HENNIG AND SCOTT HALL
(In AWA going to the top and doing a elbow to someones throat is a DQ)
Curt Henning promo Curt says he wants the Lone Riders at wrestlerock and at wrestlerock the lone riders will be in wrestleling gear
credits

OVERALL: "The main event was about 20 minutes and ended in a stupid finish is this ECW every Tuesday? King Kong Brody in a mask
made 0 sense, weird weird stuff going on, ohh BTW wrestlerock was NOT the greatest wrestling event of all time! See Y'all tomorrow - Joe"