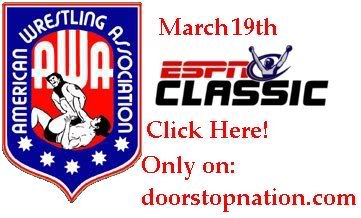 AWA ON ESPN CLASSIC MARCH 19TH

TAPED ON JUNE 24TH 1986

BTW This Episode was delayed till 12:18 due to a College Basketball game....

Dennis Stamp vs. Col. Debeers
(This is a dream match LOL any match with Dennis Stamp)
hammerlock to Debeers
hammerlock to Debeers
hammerlock to Debeers
(Yes it's 3 minutes of non-stop hammerlocks)
boots to Stamp
front face drop to Stamp 1,2 kick out
roll up to Stamp 1,2 kickout
Debee's punches stamp and rolls him up 1,2 kickout
suplex to Debeers 1,2 kickout
front face driver 1,2,3 WINNER: COL. DEBEERS

COMMERCIAL

Jay York vs. Curt Hennig
arm drag to Jay
headlock to Curt
Curt slaps Jay!
Jay rakes Curt's eyes
dropkick from the top to Jay 1,2,3 WINNER: CURT HENNIG

COMMERCIAL

Boris Zhukov and The Barbarian vs. The Midnight Rockers
backdrop to Boris
arm drag to Boris into a pin 1,2 kickout
hip toss to Boris 1,2 kickout
double elbow smash to Boris
backdrop to Shawn 1,2 kickout
double backdrop to Barbarian
(There is some electrical problems in the Showboat Hotel)
hip toss to Boris 1,2 kickout
headbutt to Marty 1,2 kickout
dropkick to Boris
all 4 men in the ring fighting
Marty goes to the top "Playboy" Buddy Rose knocks him off
Boris pins Marty 1,2,3
WINNERS: Boris Zhukov and The Barbarian

COMMERCIAL

The midnight Rockers promo Marty says he wants Buddy Rose now more than ever!
Shawn says this is the last time Rose interferes in there match!
Credits

OVERALL: "Well some of this show was not aired since it came on the air at 12:18 and ended at 1:00
oh well, good to see Dennis Stamp of course LOL well that's all until tomorrow! - Joe"