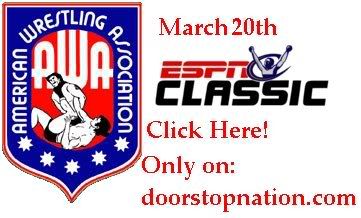 AWA ON ESPN CLASSIC March 20th (First day of spring)
Taped on: ??? 1986
@ Kaiser Convention Center Oakland, CA

Ali Khan W/ sheik Aganon El Kasiey vs. Earthquake Farris boots to Farris Ali throws Farris into the turnbuckle
headlock to Farris chink lock to Farris
Sheik yells at the crowd LOL This is awesome!
neck breaker to Farris
splash in the corner to Ali
slam to Ali 1,2,3 WINNER: EARTHQUAKE FARRIS!

COMMERCIAL

Jay York vs. Jimmy "Superfly" Snuka
elbows to Snuka
headlock to Snuka
leg scissors to York
(While in the leg scissors there's a graphic on the screen that says "Superfly" YES we know he is the Superfly!)
(York reverses into a toe hold Snuka taps! I guess in 1986 tapping meant nothing LOL)
headlock to York
dropkick to York
cross body to York 1,2,3 WINNER: JIMMY SNUKA
(There's a announcement on the PA saying whoever Jim Gabers is he is needed)
COMMERCIAL

Jimmy Snuka promo Did I mention he is Superfly? Snuka says he's happy to be back in the AWA the AWA has the best wrestlers!
Snuka says it will work his way up to get the AWA title!

COMMERCIAL

Jerry Blackwell vs. Stan "The Lariat" Hansen
(oh fuck another Jerry Fatwell match, I hope for my sake and my good friends over at angrymarks.com I stay awake)
Stan attacks Jerry
headbutts to Stan
Jerry throws Stan into the post
Stan is busted open!
boots to Jerry
bear hug to Stan (this goes on for about 3 minutes)
Stan tries to get out of it thus knocking down the referee
(The referee who is Rich Brisk is selling it like he has been shot)
Stan takes off his boot and beats Jerry with it!
Stan then beats the Referee with it!
Jerry then gets the boot and attacks Stan with it!
WINNER VIA DQ AND STILL AWA CHAMPION STAN HANSEN!

COMMERCIAL

Stan Hansen promo Stan tells kids to say no to you know what (no please tell me) maybe say no to Jerry Fatwell matches yeah that's got to be it
Stan then claims Jerry Fatwell's ankle injury was fake

COMMERCIAL

Alexis Smirnoff, "Playboy" Buddy Rose and Doug "pretty boy" Summers W/Sheri Martel vs. Curt Hennig and the midnight Rockers
backdrop to Rose
slap to Curt
(theers a dough boy chant I assume it's to Buddy Rose should've chanted this during the Jerry Fatwell match)
slam to Shawn boots to Shawn
atomic drop to Summers 1,2 kickout
fireman's carry to Summers
chops to Marty
suplex to Summers
sunset flip to Summers 1,2 kickout
super kick to Summers 1,2 kickout
elbows to Rose
knee lift to Rose
3 on 1 on Curt
roll up to Alexis 1,2 kickout
slam to Summers 1,2 kickout
everyone is in the ring complete bedlam!
dropkick to Alexis 1,2,3 WINNERS: CURT HENNIG AND THE MIDNIGHT ROCKERS!

COMMERCIAL

Curt Hennig promo Curt of course puts over the AWA says that the AWA has the best wrestlers in the world!
Curt also mentions this is a new Curt Hennig and he can take anyone!
Marty Jennity says Buddy Rose is a dough boy! and the midnight Rockers are going after the AWA tag titles!
Shawn then puts over the AWA
credits

OVERALL: "The 6-man tag match was one the best matches I've seen on This show, really it was awesome, this episode
was pretty cool, other than the Jerry Fatwell match LOL Why was that guy SUPER OVER? I guess it was the 80's
Well That's all for today see Y'all tomorrow! - Joe"