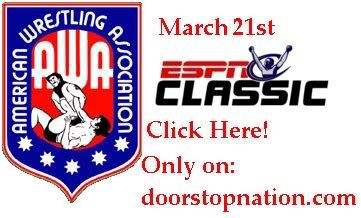 AWA ON ESPN CLASSIC MARCH 21ST
TAPED ON AUGUST 5TH 1986 @ Showboat Hotel Las Vegas, NV

Curt Gunther vs. Doug "pretty boy" Sommers
armtakedown to Curt
knee to Curt
headlock to Curt
elbows to Curt
suplex to Curt 1,2,3 WINNER: DOUG SOMMERS

COMMERCIAL

Promo with Larry Zbybisco Larry says the AWA is out to get him, and he has a guest with him
who is holding him down, Greg Gagne Greg says he's a professional and Larry is not
Larry says that Greg just in the AWA to impress Daddy!
Greg claims Larry is only in the AWA to be like his hero Bruno Sammartino
Then they goto to some montage where it shows Greg beating up some jobbers while playing some Nintendo techno music
COMMERCIAL

Larry Nelson is joined with Dana who is charge of Ringside Rumors OK....
Dana claims talks about the Sheri Martel Candi Devine match and how there should be a rematch
Dana says the only rumor she has is that Sheri will be in a movie!


COMMERCIAL

Nick Bockwinkel promo Nick says he is going after the Sheik and will end his army!


COMMERCIAL

Don Fargo vs. Jimmy "Superfly" Snuka
armbar to Snuka
sleeper hold to Snuka (This goes on for 3 minutes)
chinlock to Snuka
headbutts to Don
backdrop to Don
splash from the top to Don 1,2,3 WINNER: JIMMY SNUKA

COMMERCIAL

Jimmy Snuka promo Jimmy says he's working his way up to the top and now he is going after The Sheik!


COMMERCIAL

Larry Zbyisco and Mr. Go vs. Marty Jannetty and Shawn Michaels
(There's a Lar-ry sucks chant)
(Larry tells the crowd to shut up and goes off on a fat fan)
fire mans carry to Marty
dropkick to Larry
armbar to Larry
Larry gets thrown outside the ring he says "shit" they bleep him out
armbar to Mr. Go
this armbar takes Mr. go out of the ring
chinlock to Shawn
Larry slaps Shawn
Shawn slaps Larry!
Larry throws Marty into the turnbuckle!
hip toss to Marty
Mr. Go chokes Marty outside the ring!
slam to Marty 1 count broken up by Shawn
knee lift to Larry
super kick to Mr. Go
elbows to Mr. Go 1,2 Larry breaks the count
roll up to Larry 1,2 kickout
sunset flip to Larry 1,2 kickout
double drop kick to Mr. Go 1,2 broken by Larry
suplex to Marty
slam to Larry 1,2 kickout
TIME LIMIT DRAW!
There's complete bedlam everywhere
Shawn throws Mr. Go into a table!
chops to Shawn
Mr. Go throws Shawn into the steps!
double drop kick to Mr Go
credits

OVERALL: "The main event was very good, but stupid finish I want to see a clean finish damn it! Oh Well beggars can't be choosers!
Larry Zbyisco sure knows how to work the crowd really he's damn good! Well onto tomorrow! - Joe"