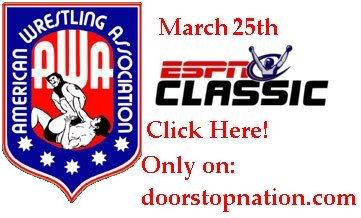 AWA ON ESPN CLASSIC MARCH 25TH
TAPED IN 1986 IN OMAHA NEBRASKA

Pete Sanchez vs. Colonel Debeers
take down to Pete
boots to Pete
forearms to Debeers
clothesline to Pete
front face drop to Pete 1,2,3
WINNER: COL. DEBEERS

COMMERCIAL

Col. Debeers promo Debeers asks why South Africa is excluded
Debeers then claims Scott Hall is on Steroids and not a real athlete
Debeers then tells the crowd to shut up and says the local Omaha newspaper is a liberal rag
COMMERCIAL

Chris Curtis and Rick Denslow vs. Greg Gagne and Jerry Blackwell
(BTW the ring announcer isn't Larry Nelson fo some reason it's someone wearing a puffy shirt and he SUCKS)
leg scissors to Greg
Greg goes for the head scissors and botches and falls Right on his head (there's one for botchamania)
forearms to Rick
chops to Chris
elbows to Jerry
headlock to Chris
(there's a Jerry Chant)
splash to Chris
splash from the top to Chris from Greg 1,2,3 WINNERS: GREG GAGNE AND JERRY FATWELL

COMMERCIAL

(Oh god, it's a Jerry Fatwell promo)
Greg puts over Jerry Greg then claims he's going after the AWA title and the Sheiks' army and how Sheik cannot buy him out!
Jerry says he's going after The Sheik's army and the Sheik cannot buy him out

COMMERCIAL

(if this show couldn't get any worse here comes Boris Zhukov)
Boris Zhukov and The Barbarian W/Sheik Aganon El-Kasiey vs. Rick Wilson and Earthquake Farris
boots to Farris
The Barbarian drags Farris outside the ring
slap to Boris
(THIS MATCH SUCKS, IT'S BEYOND SUCKING IT'S HORRIBLE)
suplex to Rick
clothesline to Rick
elbow to Rick 1,2,3 WINNER: THE BARBARIAN AND BORIS ZHUKOV
promo time with the sheik, Sheik says he wants the AWA title in his army
The Barbarian says he wants the AWA tag titles
Boris Zhukov says something all I hear is AWA tag titles
The Barbarian then claims Scott Hall and Curt Hennig are midgets(That makes sense you stupid mother fucker!)

COMMERCIAL

Princess Jasmin vs. Sheri Martel W/ "Playboy" Buddy Rose
armbar to Sheri
boots to Jasmin
chops to Sheri
headbutts to Sheri (This match is un-reviewable it's that BAD, I can just summarize the next five minutes, arm bars and punches)
Sheri rolls up Jasmin grabs the rope 1,2,3 WINNER: SHERI MARTEL

COMMERICAL

Buddy Rose Promo Rose puts over Sheri
Larry Nelson then asks why Sheri used the rope Sheri said she didn't use the rope
credits

OVERALL: "This was THE WORST AWA SHOW EVER! THIS SUCKED HARD! I'm pissed off I kinda wanted to goto sleep during these matches,
I could not, I'm pretty damn sure the rest of the people who stayed up to watch this shit did, really it was that bad. I wanted
to change the channel so bad then I remembered I have to review these for the honor of my country and for Stevie J and for all of
those who do not get ESPN Classic. Well If you did not see this thank god you did because you would've wasted of a hour of your life. - Joe"