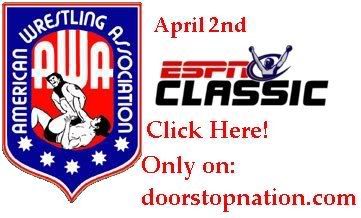 AWA April 2nd 2008
Taped on Feb 14th, 1986

The Alaskans vs. Leon White and Buck "Rock n' Roll" Zhubou
tie ups for 5 minutes no moves
slam to Alaskan #1
Buck grabs #1's beard
armbar to #2
slam #2
Leon slams Buck onto #2 1,2,3 WINNERS: LEON WHITE AND BUCK ZHUBOU

COMMERCIAL

Promo with Buck and Leon Buck puts over Leon
Leon puts over the AWA and says they have toughest wrestlers in the world

COMMERCIAL

Mike Richards vs. King Kong Brody W/ Sheik Adanon El-Kasiey
chops to Mike
big boot to Mike
slam to mike
mike punches Brody Brody no sells
piledriver and what a good one to Mike 1,2,3 WINNER KING KONG BRODY
Brody then attacks the Referee
Brody then gets a chair and attacks Mike!
Brody goes in the crowd

COMMERCIAL

Sheik Adaon El-Kaseiy promo Sheik says it cost him money to get Brody back!
Sheik also claims that Brody is a hero in the Arab world!
Sheik challenges anyone to face Brody!

COMMERCIAL

Sgt. Slaughter, Sgt. Slaughter Slaughter now a part of GI Joe!
This is awesome some cheese 80's music is fucking rules!
Sgt. Slaughter hands out American flags to the kids!
Sgt. Slaughter vs. Rick Ganter
BTW Greg Gagne on commentary says King Kong Brody was fined $15,000 for his actions earlier!
punches to Sarge
forearms to Rick
slam to Rick
Rick chokes Sarge on the ropes
sarge slams Rick from the top rope!
Sarge from the second rope clotheslines Rick 1,2,3 WINNER: SGT. SLAUGHTER

COMMERCIAL

Sgt. Slaughter promo Sarge puts over the USA!
Sarge then puts over Wal-Mart!!! ahahahaha wow!
Sarge says Brody is tough.
Sarge then says he will be facing Stan Hansen across the country!
Sarge then says he is wrestling for the people!

COMMERCIAL

Stan "The Lariat" Hansen vs. Curt Hennig for the AWA title!
Stan misses the elbow
headbutt to Stan
elbows to Curt
dropkick to Stan
knee drop to Curt
drop kick to Stan
headlock to Stan
knee drop to Curt
slam to Curt
chops to Curt
backdrop to Curt
elbows to Curt
chops to Curt
roll up to Stan 1,2 kickout
punches to Stan
boot to Curt
back breaker to Curt
side suplex to Curt 1,2 kickout
knee drop to Curt
stomach clamp to Curt
Stan throws Curt Curt gets choked by the ropes!
Here comes Scott Hall!
Scott saves Curt and attacks Stan
WINNER VIA DQ: STAN HANSEN
Stan leaves the ring then returns to attack Scott!
Curt Hennig promo Curt says how he didn't give up
Scott Hall also says Curt didn't give up!
Scott says he will take on Stan anytime!
credits

OVERALL: "Curt Hennig got his ass kicked really Stan Hansen threw potatoes hard to Curt... BTW The Sgt. Slaughter song was freaking AWESOME! See Y'all tomorrow! - Joe"