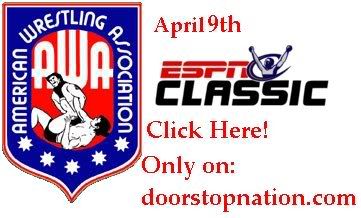 AWA on ESPN Classic April 9th
Taped 1986 @ Showboat Hotel

Jesse Hernandez vs. Larry Zbyszko W/Mr. Go
Larry sucks chant
fireman's carry to Jesse
knee lift to Jesse
suplex to Jesse 1,2 kickout
swinging neck breaker to Jesse
headlock to Jesse
punch to Jesse
boots to Jesse piledriver to Jesse 1,2,3 WINNER: LARRY ZBYZKO

COMMERCIAL

Larry Zbyszko promo Larry says anytime Scoot Ledoux wants a match he'll take him on!
Larry then says Scott is a chicken


COMMERCIAL

Stan "The Lariat" Hansen vs. Mike Richards
headlock to Stan
chops to Mike
suplex to Mike
knee drop to Mike
armbar to Stan
side slam to Mike
knee lift to Stan
clothesline to Mike 1,2,3 WINNER: STAN HANSEN
Stan Hansen promo Stan the crowd steals his stuff then he says how all these people are going after him because he's the best!


COMMERCIAL

Scott Ledoux promo Scott says he'll take on Larry Zbyszko anytime in the ring!


COMMERCIAL

Col. Debeers vs. Chris Curtis
elbow drop to Chris
knee drop to Chris
punches to Chris
backsuplex to Chris 1,2 Debeers picks him up
elbow drop to Chris 1,2 Debeers picks him up
splash to Chris 1,2 Debeers picks him up
boots to Chris 1,2 Debeers picks him up
front face drop to Chris 1,2,3 WINNER: COLONEL DEBEERS
Col.Debeers promo Debeers says history repeats itself and he will defeat Nick Bockwinkel

COMMERCIAL

Boris Zhukov and Sheik Adaon El-Kasiey vs. The Midnight Rockers
armbar to Boris then a slam to Boris
armbar to Marty
hiptoss to Boris
slam to Boris
hiptoss to Boris
double drop kick to Boris
hiptoss to Sheik
arm drag to the Sheik
slam to Sheik
splash to Sheik
2 on 1 to Marty
knee lift to Marty
armbar to Marty
elbows/forearms to Marty
dropkick to Boris
backdrop to Sheik
splash to Boris 1,2,3 WINNERS: MIDNIGHT ROCKERS

COMMERCIAL

Promo with Sheik Adaon El-Kaseiy and Boris Zhukov
Sheik says the midnight Rockers cheated and next week it will be Boris Zhukov and The Barbarian
credits

OVERALL: "Of course it's always good to see The Intruder Jesse Hernandez! That's about it!"