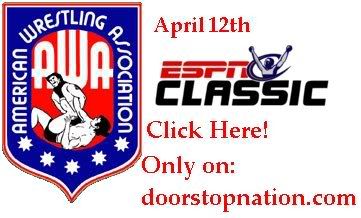 AWA on ESPN Classic April 12th Taped on April 8th 1986 @ Showboat Hotel, Las Vegas, NV

Harry Hendrixson and Earthquake Ferris vs. "Big" Scott Hall and Curt Hennig
take down to Harry into a knee lift to Harry
slam to Harry
headlock to hall
armbar to Hall
elbow drop to Hall
chops to Ferris
elbows to Ferris
backdrop to Harry 1,2 kickout
elbow drop to Harry
double elbow to Harry
slam and dropkick to Harry 1,2,3 WINNERS: SCOTT HALL AND CURT HENNIG

COMMERCIAL

Scott Hall and Curt Hennig promo
Scott knows why people are going after him and Curt because there AWA tag champions!
Curt says he's been training Hall and Hall is becoming a better wrestler and they can't wait for wrestlerock!


COMMERCIAL

Bill Anderson vs. "Playboy" Buddy Rose W/Sheri Martel
boots to Bill
Rose throws into turnbuckle
Rose throws Bill out of the ring
Rose chokes Bill on the rope
admonina stretch to Bill
boots to Bill
suplex to Bill
knee drop to Bil 1,2 kickout
forearms to Rose
elbow drop to Rose
DDT to Bill 1,2,3 WINNER PLAYBOY BUDDY ROSE

COMMERCIAL

"Playboy Buddy Rose promo Rose says he likes to hit the jackpot and he just hit it! Rose says how he's undefeated!
Sheri Says how she wants Candi Devine and the AWA women's title!

COMMERCIAL

Now Let's goto the St. Paul Civic Center in St. Paul, Minnesota
Brad Rhigens vs. King Kong Brody W/ Sheik Adaon El-Kasiey
Brad attacks Sheik
Indian death lock to Brad by a masked man!
slam to Brad
Sheik and the masked man throw brad outside the ring
Sheik and the masked man throw Brad onto a table
Here's Greg Gagne!!!
Greg uses his shoe as a weapon he beats Sheik with it!
Greg unmasks the masked man it's King Kong Brody!
Sheik and Brody attack Greg!
It's Verne Gagne!!!! Verne to save the day!
Verne attacks Brody with a chair!
Verne throws Sheik out of the ring!
sleeper hold to Brody
Verne then attack the referee
more chair shots to Brody!
Greg Gagne promo Greg says how Brody almost killed Jerry Blackwell how Jerry is in crictal condition Greg says his wife doesn't want him to be in this match
at wrestlerock Greg's partner will be Jimmy Snuka! Greg then says how he can't wait to see Verne beat up the Sheik!
Greg says in french Gagne means winner and at wrestlerock he will win

COMMERCIAL

Stan "The Lariat" Hansen vs. Leon "Baby Bull" White for the AWA title
headlock to Stan
(There's a boring chant)
knee drop to Stan
headlock to Stan
whoever Judy Moore is Verne puts the headset to her and she says hi WTF?
kick to Stan
headlock to Stan
arm drag to Leon
Japanese armbar to Leon
boots to Leon
very hard chop to Stan
very hard punch to Leon
elbow drop to Leon 1,2 kickout
headbutt to Stan
splash to Stan 1,2 kickout
clothesline to Leon 1,2,3 WINNER STAN HANSEN

COMMERCIAL

Stan Hansen promo Stan says at wrestlerock he will defeat Nick Bockwinkel
Stan says he will never quit
Nick Bockwinkel enters the ring and says he used to be hated now he knows and he will become the new AWA champion! credits

OVERALL: "I was hoping the Stan Hansen Leon White match would be better, oh well. Well nothing much happened here.
BTW where in the hell is Dennis Stamp I guess he's not booked... Well Have a good week, be safe, be cool - Joe"

Heeeeeeeeeeeeeey, This is the my 30th review of AWA on ESPN Classic so here's some pics of hot girls!