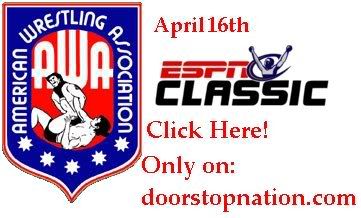 AWA ON ESPN CLASSIC APRIL 16TH
TAPED IN 1986 @ SHOWBOAT HOTEL LAS VEGAS, NV

The Steel Gladiator and Jesse Hernandez vs. "playboy" Buddy Rose and "Pretty boy" Doug Sommers W/Sheri Martel
Rose does push ups before the match
hiptoss to Rose
armbar to Sommers
slam to Jesse
armbar to Jesse
DDT to Steel 1,2,3 WINNER: DOUG SOMMERS AND BUDDY ROSE

COMMERCIAL

Doug Sommers and Buddy Rose promo Rose says that all tag teams are scared of them!
Doug Sommers challenges all the tag teams in the AWA!

COMMERCIAL

Harley Davidson vs. Nick Bockwinkel
(YES the jobber is named Harley Davidson, attention Blade Braxton Harley should be jobber of the week)
headlock to Harley
armbar to Harley
knee lift yo Harley
backdrop to Harley
piledriver to Harley 1,2,3 WINNER: NICK BOCKWINKEL
Nick Bockwinkel promo Nick says he carries a whip with him now because other wrestlers carry weapons so can he!
Nick also says he cannot wait Stan Hansen for the AWA title

COMMERCIAL

Col. DeBeers vs. Mike Richards
Elbow drop to Mike Knee drop to Mike
punches to Mike
Backsuplex to mike 1,2 DeBeers picks him up
Elbow drop to Mike 1,2 DeBeers picks him up
Splash to Mike for two DeBeers picks him up
Boots to Mike for two DeBeers picks him up
Front face drop to Mike 1,2 DeBeers picks him up
Front face drop to Mike 1,2,3 WINNER: COLONEL DEBEERS
Scott Hall comes to out confront DeBeers DeBeeers runs off!

COMMERCIAL

Larry Zbyzko and Mr. Go vs. Curt Hennig and Mike Rotundo
headlock to Mike
hiptoss to Go
sholderblock to Curt
Mike throws Go into turnbuckle
Larry gets caught in the ropes
Larry then goes outside the ring and yells at the fans!
2 on 1 to Curt
all 4 men in ring
The Referee is down!
The Referee says it's a DRAW!
Larry Zbyszko promo Larry says the referee was a friend of Curt Hennig and this was a setup!
Mr. Go speaks Japanese
Larry puts over Mr. Go and that's all credits

OVERALL: "Well in 2 weeks I was told ESPN Classic will be airing episodes from 1988/1989
I can't wait to tell you the truth I'm getting sick of 1986 - Joe"