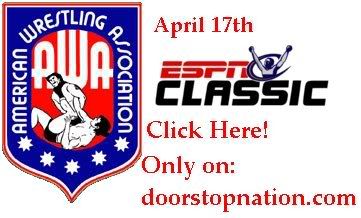 AWA on ESPN Classic April 17th
Taped May 27th 1986 @ Showboat Hotel Las Vegas, NV

HD Hass and "Handsome" Harley Henders vs. Boris Zhukov and Sheik Adanon El-Kasisey
Boris throws HD out of the ring
Boris puts Harley into the post
Sheik rakes Harley's eyes
chops to HD by Boris
Boris and Sheik stomp on HD
Theres a Sheiks a freak chant
Boris slams HD on the floor
There's a Russia sucks chant
Sheik tries to slam Harley lol theres a botch
theres a USA chant
forearms to Harley by Boris
slam to Harley
headbutt to Harley 1,2,3 WINNERS BORIS ZHUKOV AND SHIEK ADADAN EL-KASISSEY


COMMERCIAL

Sheik Adaon El-Kasiessy promo Sheik says he will get the AWA tag titles and AWA title in his army!
Boris says he can't wait to get the AWA title! Sheik then says King Kong Brody will be back and the only person he will take orders from is The Sheik!

COMMERCIAL

Greg Gagne and Larry Nelson put over the upcoming matches for tonight including a 6 man tag and Col. Debeers vs. Jake "Milkman" Milliman

COMMERCIAL

Col. Debeers vs. Jake "Milkman" Milliman
Jake starts a USA chant
armbar to Jake
boots to Jake
slam to Jake 1,2 Debeers puts Jakes foot on the rope! LOL
knee lift to Jake 1,2 Debeers picks him up
punches to Jake
front face drop to Jake 1,2,3 WINNER: COLONEL DEBEERS
Debeers then stomps on Jake
Debeers goes to the top and drops a elbow to Jake
Debeers goes to the top again here's Scott Hall Scott throws Debeers off!
Scott attacks Debeers
throws Debeers out of the ring
Debeers then gets a cane and beats Hall with it! LOL
Debeers throws Hall out of the ring
front face drop to Hall on the concrete floor!
Hall sells it like he got shot (This is awesome BTW)
Curt Henning comes out to help his friend and Debeers attacks him Curt comes back and Debeers runs off and gets the mic
Debeers said he can't stand America and if Scott Hall was a real American he would get up from the floor!
Curt yells where's a stretcher? Wheres Help? Larry Nelson also screams for help! (hahahaha this is fucking great!)


COMMERCIAL

Larry Zbysko, Doug "Pretty boy" Sommers and "Playboy" Buddy Rose with Sheri Martel vs. Steve Harpee, Jimmy "Superfly" Snuka and Mike Rotundo
Rose does some push ups (hahah)
There's a Larry sucks chant!
headlock to Sommers by Steve
Ron Trongard on Commentary keeps saying how Steve is good looking ok....
boots to Steve by Larry
chops to Larry by Mike

COMMERCIAL

punches to Larry
Larry goes outside the ring to Ron Trongard and Lord James Blears on commentary and says he's being set up
headbutts to Rose by Snuka punches to Steve by Rose
chops to Steve
3 on 1 to Steve in the corner
elbow then a suplex to Steve
Scott Ledoux sees this and stops Larry then he gives Larry a backdrop out of the ring!
WINNERS VIA DQ: "STEVE HARPEE, JIMMY SNUKA AND MIKE ROTUNDO

COMMERCIAL

Larry Zbysko promo Larry says he's tired of Scott Ledoux ruing his matches! and he can't wait to face Scott in a match! credits

OVERALL: "Not a bad show, really the Scott Hall Debeers segment was awesome, really it was I laughed pretty hard, the 6 man tag was cool too..."