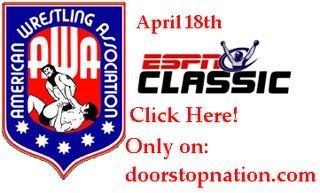 AWA on ESPN Classic April 18th
Taped in 1986 @ Showboat Hotel Las Vegas, NV

The Midnight Rockers vs. Don Fargo and El Ferante (something like that)
leg scissors to El armbar to El
Lord James Blears on commentary once again reminds us that there should be 1 referee not 2 or 3 or even 11!
back body drop to Don
suplex to Don 1,2 kickout
all 4 men in the ring
Cross body from the top to Don by Shawn 1,2,3 WINNER: THE MIDNIGHT ROCKERS
The midnight Rockers throw Don outside the ring!


COMMERCIAL

Midnight Rockers promo Marty says there number 1 contenders and they want to face Buddy Rose and Doug Sommers
Shawn then says next week there facing the Sheiks army


COMMERCIAL

Jesse Hernandez vs. The Barbarian W/Boris Zhukov
Barbarian attacks Jesse before the bell rings
Barbarian throws Jesse out of the ring
Barbarian puts Jesse in the post
slam to Jesse
elbow to Jesse
leg drop to Jesse 1,2,3 WINNER: THE BARBARIAN

COMMERCIAL

Ken Glover vs. Curt Hennig
hiptoss to Ken
armbar to Ken
headbutt to Curt
punches to Ken
backdrop to Ken
slam to Ken
The Ax to Ken
drop kick to Ken 1,2,3 WINNER: CURT HENNIG

COMMERCIAL

Curt Hennig promo Curt says he wants Buddy Rose, Curt also says he and Scott hall can't wait to face Colonel Debeers!

COMMERCIAL

Scott Ledoux vs. Larry Zybszko
There's a Larry sucks chant
drop toe hold to Scott
armbar to Scott
punches to Larry
leg lock to Scott
knee drop yo Scott
Larry then tells the crowd to shut up!
boots to Larry
punches to Scott
small package to Scott 1 count
boots to Scott
chops to Larry
Scott punches Larry and throws him into the turnbuckle
Scott is about to punch Larry Larry grabs the Referee Scott punches the referee!
WINNER VIA DQ: SCOTT LEDOUX

COMMERCIAL

Larry Zybszko promo Larry says he was robbed! Larry then says this is Bullshit!
Larry then says it was all set up! and Next time they fight Larry wants it under his rules!
Then there's a Lord James Blears promo BTW he looks like he's 80!
James Blears puts over next weeks AWA!
credits

OVERALL: "This episode kinda sucked the main event started at 12:30 and went on forever! The only good thing was we got to see
Jesse "The Intruder" Hernandez! Other than that it lacked, haha I'm starting to sound like Lance Storm or Bryan Alvarez!"