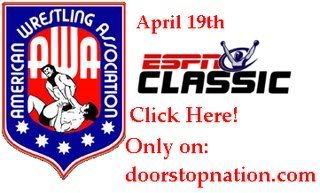 AWA on ESPN Classic April 19th
Taped in 1986 in Omaha, Nebraska

midnight Rockers vs. Tony Lenoi and Tom Stone
slam to tony then a dropkick to Tony
armbar to Tony elbow drop to Tony
drop toe hold to Tony
punches to Shawn knees to Shawn
double drop kick to Tony
arm bar to Marty by Tom
elbows to Marty
double ax handle to Marty
back breaker to Marty 1,2 kickout
sholderblock to Marty
backdrop to Tom
eye rake to Shawn
boots to Tom
Marty sets Tom for a suplex Shawn goes to the top for a cross body 1,2,3 WINNERS: MIDNIGHT ROCKERS

COMMERCIAL

Jerry Blackwell promo Jerry puts over the city of Omaha then says he wants to take on the Sheiks army

COMMERCIAL

Jake "Milkman" Milliman vs. Ali Khan (Ali just got one of the biggest Conway pops ever! hahah this is awesome the crowd is DEAD!)
headlock to Jake
Jake pulls on Ali's beard
suplex to Jake
elbows to Jake
knee drop to Jake
inverted body vice to Jake
WINNER VIA SUBMISSION: ALI KHAN

COMMERCIAL

Sheik Adaon El-Kaseiy promo Sheik says his army can take down Jerry Blackwell because Jerry is a fat slob!
The Barbarian says he likes to put people on the strecther!

COMMERCIAL

Larry Nelson puts over Earthquake Farris and how he is improving
Earthquake Farris vs. Colonel Debeers
headlock to Farris
solder block to Farris
shoulder block to Debeers 1 count
headlock to Debeers
boots to Debeers then a splash 1,2 kickout
slam to Debeers elbow drop to debeers 1,2 kickout
knee lift to Farris
chops to Farris
atomic drop to Debeers
running power slam to Debeers 1,2 Debeers puts his foot on the rope
small package to Farris 1,2,3 even though Farris' foot was in the rope the referee didn't see it

COMMERCIAL

"Big" Scott Hall and Curt Hennig vs. "Pretty Boy" Doug Sommers and "Playboy" Buddy Rose W/ Sheri Martel
Rose does some poorly done push-ups Hall then does one arm push ups!
Lord James Blears on commentary says Scott Hall looks better than Tom Selleck!
backdrop to Sommers
elbows to Sommers
headlock to Sommers
chops to Sommers
Rose gets in the ring and throws Curt out and puts Curt into the steel guard rail.
elbows to Curt 1,2 Hall breaks the count
suplex to Curt
elbow to Rose
slam to Rose
Here comes Colonel Debeers! Debeers attacks Hall Hall then gives him a atomic drop
WINNERS VIA COUNT OUT: DOUG SOMMERS AND BUDDY ROSE

COMMERCIAL

Curt Hennig and Scott Hall promo Curt asks why are Doug Sommers and Buddy Rose still champs?
Scott Hall says he's easy to find for Debeers!
Curt Hennig tells Scott next time Debeers comes out in there match ignore him! credits

OVERALL: "Not a bad show, Earthquake Farris haha kinda funny I was just thinking of him today due to the Midwest earthquakes! Well Be safe Be Cool - Joe"