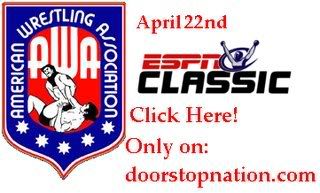 AWA on ESPN CLASSIC April 22nd (Earth Day) Taped in 1986 @ Showboat Hotel Las Vegas, NV

Bobby "Bald Eagle" vs. Nord "The Barbarian" W/ Sheik Adanan El-Kasiey
Barbarian brings a strecther to the ring
boot to Bobby
headbutt to Bobby
throws Bobby into the post
knee lift to Bobby
arm drag to Bobby 1,2 Barbarian picks him up
leg drop from the top to Bobby 1,2,3 WINNER NORD THE BARBARIAN

COMMERCIAL

Promo with Sheik Adanon El-Kasiey and Nord The Barbadian
Sheik says he can take on anyone in the AWA including
Greg Gagne, Nick Bockwinkel and that fat slob Jerry Blackwell
The Barbarian says he used to play for the USFL and the sheik is paying him more than the USFL!

COMMERCIAL

Let's goto Omaha, Nebraska
Allen West vs. Larry Zbyscko
Lord James Blears on commentary says his wife thinks Larry is irritating
arm drag to Allen
slam to Allen 1,2 kickout
headbutt to Allen into a shoulder block to Allen
roll up to Allen 1,2 kickout
elbow drop to Allen
knee lift to Allen
headlock to Larry
Larry reverses it into a roll up 1,2 kickout
Allen goes for a leg drop he misses Larry then pins him 1,2,3 WINNER: LARRY ZBYSCKO

COMMERCIAL

Jesse Hernandez and Bill Anderson vs. Ali Khan and Boris Zhukov W/ Sheik Adanon El-Kasiey
Sheiks a freak chant
slam to Jesse
elbow drop to Jesse
bear hug to Bill
headbutt to Bill
backdrop to Bill
knee drop to Jesse
inverted boy vice to Jesse
WINNERS VIA SUBMISSION: ALI KHAN AND BORIS ZHUKOV

COMMERCIAL

The Midnight Rockers vs. "Pretty Boy" Doug Sommers and "Playboy" Buddy Rose W/ Sheri Martel
BTW this match is for the AWA tag titles
punches to Rose
boots to Rose
Sommers throws Shawn into the post then falls on the floor
Shawn blades
Shawn tries to punch Sommers and misses
elbow drop to Shawn
backdrop to Shawn 1,2 kickout

COMMERCIAL

boot to Shawn
punches to Rose and Sommers
Shawn finally tags in Marty! Marty cleans house
2 on 1 to Marty Sommers bites Marty!
punches to Marty
Marty bites Sommers
Marty then bites Rose
all 4 men in the ring it's bedlam!
Rose punches the referee
a new referee comes out
the new referee gets knocked out!
IT'S RULED A NO CONTEST
Rose slams Marty on a chair!
Here comes Greg Gagne to save the day he arrives with 2 jobbers!

COMMERCIAL

Greg Gagne cuts a promo on the last match saying in his 13 years he has
never seen anything like that! Greg then challenges Sommers and Rose
credits

OVERALL: "The main event was OK too bad it was ruled a no contest, oh well oh good to see
Jesse Hernandez! I'm getting tired of this Sheiks army shit....."