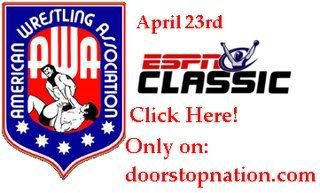 AWA ON ESPN CLASSIC APRIL 23RD
TAPED ON DECEMBER 26TH 1988 @ CHICAGO ILLINOIS
BTW The announcers are WCW LEGEND Lee Marshall and Ray Stevens

The RPM'S (Jeff Gouldie and Mike Davis) and Cactus Jack vs. The Guerrero's
leg scissors to Mondo Guerrero
roll up to Cactus
punches to Cactus
knee drop to Chavo
armdrag to Mike
cross bodys to the RPMS
splash to the Rpms by Hector
dropkicks to the Rpms by the Guerrero's
all 6 men in the ring!
moonsault by Chavo to Mike? 1,2,3 WINNERS: THE GUERRERO BROTHERS
Larry Nelson promo with Pat Tanaka Pat says he wants to face..The Guerrero's


COMMERCIAL

Promo with Top Gun (Ricky Rice and Derrick Dukes)
(For those who have never seen Derrick he looks like The old Michael Jackson on steroids!)
they say they want to be in the tag team title hunt!

COMMERCIAL

Larry Nelson puts over this next match! says the last time these two faced Ron Garvin used a forgein object!
Greg Gagne vs. Ron Garvin for the International TV title!
Ron throws Greg in to the turnbuckle
backdrop to Ron
armbar to Greg
punches to Ron
armbar to Ron
Ron bites Greg
chops to Ron
Greg attempts a drop kick and misses cover 1,2 kickout
Greg gets up and attempts a cross body to Ron they both are outside the ring
Greg enters the ring in time WINNER VIA COUNT OUT AND NEW AWA INTERNATIONAL TV CHAMPION: GREG GAGNE
It's Larry Nelson backstage with Verne Gagne! Verne puts over his son, and says superclash III is amazing!

COMMERCIAL

Larry Nelson informs us Jerry "The King" Lawler is the new AWA champion! Larry says his beating to Kerry Von Erich was horrible! We now join this match in progress!
Rock N' Roll Express (Robert Gibson and Ricky Morton vs. The Stud Stable (Jimmy Golden and Ron Fuller) W/ Sophia headlock to Golden into a elbow drop
Sophia beats Gibson with a kendo stick
hiptoss to Golden
Golden throws Gibson over the rope
Sophia hits Gibson with a kendo stick again
abdominal stretch to Gibson
knee lift to Fuller
all men outside the ring
it is ruled a NO CONTEST
promo with Manny Fernandez (Correct me if I'm wrong Manny Fernandez was also a goalie for the Boston Bruins in the 90's)
Manny says he wants Wahoo McDaniel and Manny says he was in Vietnam
promo with Wahoo McDaniel Wahoo says he wants Manny in the ring too and he respects what he did in Vietnam

COMMERCIAL

Larry Nelson says this next match is a classic
Colonel Debeers W/Diamond Dallas Page vs. Sgt. Slaughter in a boot camp match
Slaughter beats and chokes Debeers with a stick
Debeers puts boot in Sarge's chin/face
Sarge puts Debeers in the post 1,2 kickout
punches/elbows to Sarge
Debeers grabs Sarge's helmet from DDP
he headbutts Sarge like 5 times
DDP holds up Sarge Sarge moves out of the way Debeers headbutts DDP
cobra clutch to Debeers
DDP is calling for someone
WINNER VIA SUBMISSION SGT. SLAUGHTER
Out comes Sheik Adanon El-Kasiey and attacks Sarge
then comes, get ready for it........ THE IRON SHEIK! YES!!!!
Sheik assaults Sarge!!! Sheik! Sheik! Sheik!
Here comes The Guerrero's!


COMMERCIAL

promo with Sheik Adaon El-Kaseiy and THE IRON SHEIK!!!!
Sheik Adaon El-Kaseiy says he has a new man with him it's The Iron Sheik!
Iron Sheik says "all intelligent Americans know me and Sargent slaughter, they know about my background, camera zoom it!"
Larry Nelson cuts him off!
Promo with Sgt. Slaughter Sarge says he wants Iron Sheik, Sheik Adaon El-Kasiey and Col Debeers!
credits

OVERALL: "THE BEST AWA EVER!!!!! EVER!!!! Please if you don't have ESPN Classic demand it! Superclash 3 was fucking awesome!
beyond awesome this show, this show was better than RAW, smackdown and ECW rolled into one!!!!! AWESOME AWESOME STUFF!!!!"