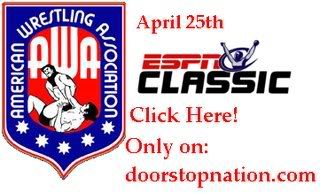 AWA on ESPN CLASSIC April 25th
Taped in 1988 all matches from Superclash 3 which was held at the UIC Pavilion in Chicago, IL

Larry Nelson puts over tonight's AWA and Superclash 3
Brickhouse Brown vs. Iceman King Parsons For the WCWA Texas Heavyweight Championship
headlock to Parsons
shoulder block to Parsons dropkick to Parsons
headlock to Brown
roll up to Brown 1,2 kickout
a bridge to Parsons 1,2 kickout
cross body to Brown 1,2 kickout
backdrop to Brown
lol Parsons calls for a timeout
shoulder breaker to Parsons 1,2
Iceman then gets a foreign object from his trunks and hits Brown 1,2,3 WINNER: ICEMAN KING PARSONS
Larry Nelson is now joined by Greg Gagne Greg says he wants Jerry Lawler Larry tells Greg it would be tough defending two titles!
Greg says he can do it, since in the AWA it's all about wrestling in some other places it's about hype and showbiz! (Was that a shot at WWF?) COMMERCIAL

Larry Nelson talks about the ending to the Boot camp match between Sgt. Slaughter and Colonel Debeers
In case you didn't read the review a few days ago Iron Sheik came out and did a run in!

COMMERCIAL

Larry Nelson is with Bill Apter Bill presents the award for most inspirational wrestler to Jerry Lawler!
Jerry Lawler says he will win wrestler of the year award!
Larry Nelson then says he can't believe that the Iron Sheik and Sheik Adaon El-Kasiey are teaming!
Iron Sheik replies "For six years nobody beat that Mr. Bob Backlund and I became the WWF champion!
Sgt Slaughter, did you compete in AAU? Did you go to Mexico City? Did you go to da olympics? I have I'm the rreal athlete!"
Col. Debeers enters and shakes Iron Sheiks hand and says he will take Sgt. Slaughter out!

COMMERCIAL

Jeff Jarrett vs. Eric Embry WCWA Light Heavyweight Championship
arm bar to Jarrett
hammerlock to Eric
series of arm bars to Jarrett
clothesline to Jeff
Eric throws Jeff out of the ring
Jeff lands outside and gets a 9 count and gets in the ring
suplex to Eric
dropkick from the top to Eric
small package to Eric 1,2 kickout
suplex to Jarrett 1,2,3 WINNER: ERIC EMBRY
Eric Embry promo Eric says he's happy to win the title, but he's concerned for Jarrett's shoulder and Jarrett can have a rematch anytime

COMMERCIAL

Larry Nelson puts over the Indian strap match between Wahoo McDaniel Manny Fernandez
Wahoo McDaniel's promo at Superclash 3 Wahoo says this feud with Manny will never end the only way it will end if Manny dies and he wants Manny dead!
Manny Fernandez's promo Manny says many times people wanted him dead he says when in Vietnam he could've died, but he didn't this feud won't end!
Another Wahoo McDaniel promo Wahoo says he wants a Mexican Death Match against Manny!

COMMERCIAL

The Samoan Swat Team (Samu and Fatu) (w/Buddy Roberts) vs. Michael Hayes and Steve Cox for the WCWA Tag Team Championship
The SST's theme song is "Don't worry be happy" lol
foreamrs to Hayes
punches to Samu
arm bar to Samu elbow to Samu
2 on 1 to Cox
punches to Cox
Cox thrown outside the ring and put into a table
back in to the ring into a clothesline and into a brain buster
elbow from the top by Fatu to Cox
double clothesline both men out
all 4 men in the ring
10 punches to Samu in the corner by Michael Hayes!
DDT to Fatu Buddy Rogers enters the ring and hits Hayes with a chain
the referee doesn't see it since he is busy watching Samu and Cox
The referee turns around Fatu is on Hayes 1,2,3 WINNER: THE SAMOAN SWAT TEAM
Larry Nelson backstage promo with The Top Guns
Rick Rice and Derrick Dukes Rick says his partner John Paul is out and he had to call on his friend Derrick
They call out Badd Company and say anytime anyplace!
credits

OVERALL: "Good, good show, The Sheik promo was Awesome, Sheik brings up WWF in AWA and the look on Larry Nelson's face was priceless! BTW eariler in the show
They pretty much called out the WWF, it's there (AWA) own fault they lost to the WWF. What if Verne didn't stiff a lot of the wrestlers towards the end, he could've done something
to compete with the WWF, so I don't get it Why did Verne stiff all those people? If he would've just paid them who knows what would've happend - Joe"