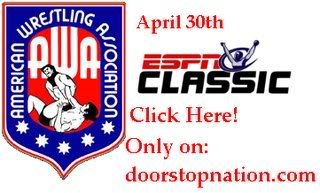 AWA on ESPN Classic April 30th
Taped in Nashville, TN 1988

Cactus Jack and Gary Young W/Downtown Bruno vs. Scott Steiner and Travis
backdrop to Cactus dropkick to Cactus
slam to Cactus 1,2 kickout
hiptoss to Gary slam to Gary
forearms to Gary
legdrop to Gary
knee drop to Gary
Gary goes outside the ring gets a boot from Bruno hits Travis with it Cactus pins Travis 1,2,3 WINNERS: GARY YOUNG AND CACTUS JACK

COMMERCIAL

Mike Enos vs. Tijoie Khan W/ Soldad Uslanaoff
(more Russians damn it, if your viewing this for the first time I hate Russian gimmicks)
chops to Enos slam to Enos
elbow drop to Enos
clothesline to Enos 1,2,3 WINNER TIJOIE KHAN

COMMERCIAL

Greg Gagne talks about last night's Jerry Lawler vs. Kerry Voeric match and they show the match again!
Which can be read from last nights review.....

COMMERCIAL

Alan Reynolds vs. Ron Garvin suplex to Alan
armbar to Alan
punches to Alan
Garvin stomp to Alan
backdrop to Alan
Another Garvin stomp to Alan
punch to Alan 1,2,3 WINNER: RON GARVIN

COMMERCIAL

(There's a Rock n Roll Express chant)
Rock N Roll Express vs. ????
(They didn't say the jobbers names so I'm going to call the jobbers RD Reynolds and Blade Braxton)
punch to RD
knee lift to RD
cross body to RD
2 on 1 to Blade
leg lock to Blade
punches and clothesline to Blade 1,2,3 WINNER: ROCK N ROLL EXPRESS

COMMERCIAL

The ring Annoucer says this is be a classic USA vs USSR match
Soldad Uslaff W/ Tijoie Khan vs. Sgt Slaughter


COMMERCIAL

headlock to Sarge
armbar to Sarge
knee lift to sarge
Soldad puts Sarge into Turnbuckle
boots to Sarge
backdrop to Sarge
Soldad throws Sarge out of the ring
clothesline to Soldad
punches to Soldad
Cobra Clutch to Soldad
Tijoie enters the ring and breaks up the Cobra Clutch
Sarge attacks Tijoie with right hands
Soldad leaves the ring
Sgt Slaughter promo Sarge says he wants Kerry Voneric and Jerry Lawler and the AWA title
Sarge then says he has not forgotten about Colonel Debeers credits

OVERALL: "Not a good show, really nothing much happened, just sat there and thought about fishing,
yeah I know, bad show BTW Who is all for a Mike Adamle prank phone call?"