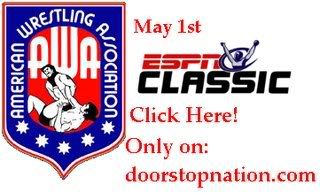 AWA on ESPN Classic May 1st
Taped in 1988 @ Showboat Hotel, Las Vegas, NV

Larry Nelson reads some fan mail, and tells about this upcoming match
Van Van Horn and Jake "The Milkman" Milliman vs. "Slick" Nick Kiniski and "Mr. Magnificent" Kevin Kelly W/Medusa
puts Jake in the turnbuckle
knee to Van
double elbow to Jake
rakes Jake's eyes on the rope
clothesline to Jake
piledriver to Van 1,2,3 WINNER: NICK KINISKI AND KEVIN KELLY]

COMMERCIAL

Ricky Rice and Stevo vs. Samu and Dennis Stamp
(Whoever Donna is she is on commentary)
clothesline to Samu
2 on 1 to Samu
punches to Ricky
slam to Stamp
suplex to Stamp
double elbow to Stamp
cross body to Stamp 1,2,3 WINNERS: RICKY RICE AND STEVO

COMMERCIAL

Tom "Rocky" Stone vs. Billy Jack Strong
Tom attempts to put Billy in a full nelson
forearms to Tom
armbar to Tom
slam to Tom
rakes Billy's eyes across the ropes
Tom tries to slam Billy Billy then slams Tom
DDT to Tom from the second rope!
tombstone piledriver to Tom 1,2,3 WINNER: BILLY JACK STRONG
There's a graphic on the screen saying who's is the most popular wrestler in the AWA it's Greg Gagne hahah no surprise!

COMMERCIAL

Bill Apter is with Wahoo McDaniel Bill asks Wahoo who would he like to go against Wahoo says Curt Hennig and Wahoo puts over a strap match he had against Curt
Bill asks Wahoo is he training Billy Jack Strong Wahoo says yes and they should be going after the AWA tag titles!
There's a graphic on the screen who is the most hated wrestler in the AWA it's Curt Hennig

COMMERCIAL

Dennis Stamp vs. Soldad Ustinoff
(Yes 2 Dennis Stamp Matches! TWO IN ONE NIGHT! THIS IS AWESOME STAMP HAS BEEN BOOKED! HE HAS BEEN BOOKED!)
Arm bar to Soldad
slam to Stamp
elbow drop to Stamp
puts stamp into the turnbuckle
puts Soldad into the post
punches to Soldad
backdrop to Soldad
boot to Stamp
1,2,3 WINNER SOLDAD USTINOFF

COMMERCIAL

Larry Nelson again he puts over fan mail and this upcoming match!
Midnight Express (Dennis Condrey and Randy Rose) W/ Paul E. Dangerously vs. Midnight Rockers For the AWA tag titles!
Paulie on the mic says the midnight express can stay up to midnight
There's a Paulie sucks chant
punches to Dennis
atomic drop on the outside of the ring to Dennis and Randy by Marty
punches to Dennis
The Midnight Rockers grab the titles and put them on!
The Midnight Express get back in the ring
hip tosses to Dennis
headlock to Dennis
suplex to Randy
clothesline to Shawn 1,2 kickout
boots to Shawn
backdrop to Shawn 1,2 kickout
knee drop to Randy
splash to Shawn 1,2 kickout
punches to Shawn
roll up to Dennis 1,2 kickout
all men in the ring
slam to Dennis by Marty
Superkick to Randy by Shawn
Marty and Shawn pin Randy and Dennis 1,2,3
WINNERS AND NEW AWA TAG CHAMPIONS THE MIDNIGHT ROCKERS

COMMERCIAL

Larry Nelson says hes proud to have The Midnight Rockers as AWA tag champions Larry then puts over the AWA!
credits

OVERALL: "TWO DENNIS STAMP MATCHES IN ONE NIGHT! That's right two, it made it worth it! The Main event was
OK, Dennis Stamp! hahah this is awesome, this is awesome! oh god a this is awesome chant I guess I'm like a TNA mark
with AWA, then again a TNA mark has a 34IQ I think I'm smarter than that, I dunno maybe...."