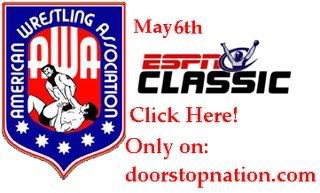 AWA on ESPN Classic May 6th
Taped in 1988 in Mineot, ND

Larry Nelson welcomes us and tells us about the Fan of the week and tonight's matches
Ricky Rice vs. "Ace" Bob Orton
hiptoss to Ricky
headlock to Ricky
elbows to Ricky
armbar to Ricky
dropkick to Ricky
dropkick to Bob
Bob throws Ricky out of the ring
Bob goes to the top and does a poorly done elbow from the top to the outside to Ricky
(going to the to and jumping to the outside is a DQ)
WINNER VIA DQ: RICKY RICE!
Bob attacks Ricky some jobbers try to save Bob attacks them

COMMERCIAL

Larry Nelson says Bob Orton enjoys beating people up
then they show the Adrian Adonis vs Greg Gagne match from last week

COMMERCIAL

Mike Smith and Tom Johnson vs. The Midnight Rockers
knee lift to Mike
slam to Mike
2 on 1 to Mike
double elbow to Mike 1,2,3 WINNERS MIDNIGHT ROCKERS
Promo with Shawn Michaels Shawn says he's happy to be in the AWA and good to be tag champions!
Promo with Soldad Usinoff Soldad says he wants the AWA tag titles his tag team partner will be Sheik Adaion El-Kaseiy

COMMERCIAL

Darrell Olsen vs. Soldad Ustinoff W/ Sheik Adaion El-Kaseiy
(There's a USA chant)
forearms to Darrell
sleeper hold to Darrell
elbows to Darrell
Inverted body vice to Darrell WINNER VIA SUBMISSION: SOLDAD USTINOV

COMMERCIAL

Jim Thomas vs. Wahoo McDaniel
chops to Jim
punches to Jim
chops to Jim again
armbar to Jim
elbow to Jim 1,2,3 WINNER WAHOO MCDANIEL

COMMERCIAL

Medusa promo she says her man will be the new AWA champion!
Mr. Magnificent says he will get the AWA title!

COMMERCIAL

Curt Hennig vs. Mr. Magnificent W/ Medusa for the AWA title
throws Curt into turnbuckle
Throws Curt out of the ring
knee lift to Curt
kicks to Magnificent
Curt puts Maganifent's knee into the post
leg lock to Magnificent
punches to Curt
backdrop to Curt 1,2 kickout
Curt puts Magnificent into the ropes then a slam 1,2,3 WINNER AND STILL AWA CHAMPION: CURT HENNIG
Larry Nelson thanks us and more about the Fan of the week
Credits

OVERALL: "Not a good episode, I think most of these episodes are hit or miss, really just a bad show
BTW Whoever Donna is she is horrible on commentary!"