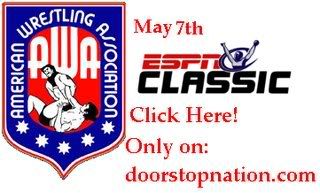 AWA on ESPN Classic May 7th
Taped in 1988 in Mineot, ND

Larry Nelson welcomes us and tells about tonight's match ups and he shows us
yesterdays main event which was Curt Hennig vs Mr. Magnificent

COMMERCIAL

Mr. Magnificent and Nick Kaniski vs. Mike Smith and Darrell Olsen W/ Medusa
(Medusa is wearing a body suit, you can see all of her goodies!!!)
knees to Darrell
hiptoss to Nick into a armbar
2 on 1 to Darrell
throws Mike outside the ring
elbows to Nick
knee lift to Mike
piledriver to Nick 1,2,3 WINNERS MR MAGNIFICENT AND NICK KANISKI

COMMERCIAL

Larry Nelson tells us to see the AWA live! Wahoo McDaniel comes in and tells us the AWA is the best promotion
Greg Gagne enters and tells us AWA has the best competition and he will defend his title everywhere, but AWA is the #1 promotion!

COMMERCIAL

Mark Wagner vs. Greg Gagne for the AWA International Television Title
armbar to Mark
leg scissors to Mark
leg lock to Mark
throws Mark into the turnbuckle
slam to Mark
backdrop to Mark
dropkick to Mark
Gagne sleeper hold to Mark WINNER VIA SUBMISSION GREG GAGNE!

COMMERCIAL

Larry Nelson reminds us again to see the AWA live!
Promo with the Nasty Boys Knobbs says that the nasty boys are crazy!
Saggs then says the Nasty Boys want the mid night Rockers!

COMMERCIAL

The No Man vs. Tom Zenk (BTW they introduced The No Man from Death Valley)
roll up to No Man 1,2 kickout
armbar to No Man
suplex to No Man 1,2 kickout
dropkick to No Man 1,2,3 WINNER: TOM ZENK
Promo with Tom Zenk Tom says he wants Curt Hennig and the AWA title!
Tom introduces his new tag partner Ricky Rice! Ricky says he has been training with Tom!

COMMERCIAL

Adrian Adonis and "Ace" Bob Orton vs. The Midnight Rockers for the AWA tag titles
headlock to Bob
dropkick to Bob 1,2 kickout
headlock to Bob
double body scissors to Adonis and Bob
punches to Bob
backdrop to Shawn
bull dog to Shawn
Adonis rakes Shawn's' back
standing suplex to Shawn
bear hug to Shawn
Adonis chokes Shawn the referee isn't looking BTW
knee drop to Shawn
2 on 1 to Shawn
knee lift to Shawn 1,2 kickout
shoe laces to Shawn
clothesline to Shawn
elbows to Shawn
Bob throws Shawn outside the ring
Adonis blocks the referee while Bob attacks Shawn
Bob throws Shawn into the post
neck breaker to Shawn
backsuplex to Shawn
back breaker to Shawn
Marty finally gets in!
Marty attacks both Bob and Adonis
Marty gets thrown out of the ring
all 4 men battle outside the ring
they go back inside the ring
double super kick to Bob
The Referee rules this match a NO CONTEST
credits

OVERALL: "Damn another poor show, then again I'm still enjoying myself lol
This woman named Donna on commentary is horrible everyone bitches about Mike Adamle, but he is so much better than Donna...
oh BTW there will be no AWA tomorrow due to ESPN Classic showing
a marathon of boxing, so yeah I get a day off, wonder what will I do? I bet I'll watch some Sheik on Youtube has anyone seen the one where Sheik, Honkey Tonk Man and New Jack shoot on Dusty Rhodes?"