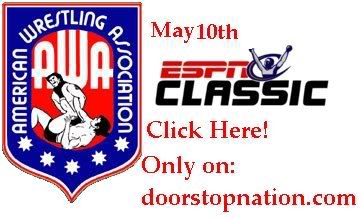 AWA on ESPN Classic May 10th
Taped 1988 Las Vegas, NV

Larry nelson welcomes us he shows us last nights main event Jerry Lawler vs. Curt Hennig

COMMERCIAL

Kevin Collins and Greg Robertson vs. Nasty Boys
throws Kevin out of ring
forearms to Kevin
slam to Kevin
roll up to Knobbs 1,2 kickout
knee lift to Kevin
legdrop to Greg 1,2,3 WINNERS NASTY BOYS

COMMERCIAL

Steve Olsenoski vs. Greg Gagne For the AWA International Television Title
armbar to Greg
leg lock to Greg
drop toe hold to Steve 1,2 kickout
headlock to Steve
armbar to Steve
leg lock to Steve
clops to Steve
abdominal stretch to Greg
slam to Greg
armbar to Greg
headlock to Greg
chops to Steve
roll up to Steve 1,2,3 WINNER GREG GAGNE

COMMERCIAL

Destroyer Samoan and Samoan Joe vs. Midnight Rockers
roll up to Destroyer 1,2 kickout
chops to Destroyer
armbar to Destroyer
armbar to Marty
sleeper hold to Marty
armbar to Joe
chops to Joe
double suplex to Joe 1,2,3 WINNERS MIDNIGHT ROCKERS
Midnight Rockers promo Marty says there's alot of competition in the AWA, but the Rockers are the best Shawn agrees

COMMERCIAL

Larry Nelson shows us Badd Company highlights

COMMERCIAL

THE MAIN EVENT IS............ A MIDGET MATCH!!!
(I'm know it might offend little people out there, but that's what the AWA is calling it)
Bad Boy Brown and Killer Cruise vs. Cowboy Lange and Karate Kid
armbar to Cruise
elbow drop to Cruise
(I fell asleep and woke up at the very end, sorry.......)
WINNERS: COWBOY LANGE AND KARATE KID
credits

OVERALL: "I fell asleep it was bad, just awful. zzzzzzzzzzzzzzzzzzzzzzzzzzz"