Mike Tenay: "Welcome to Fun Friday What is akeem doing?!"
Don West: "That is just sooooooooo WRONG!"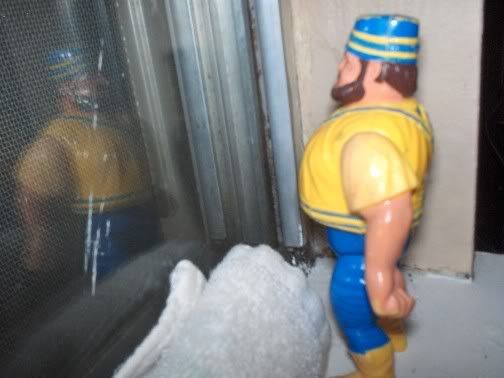 Mean Gene: "I want to welcome everyone to our sixth anniversary show! I know six years! If this was a child the child would be smarter than the man in charge of this promotion!"



John Cena: "I want to say Fun Friday six years is great, I promise to help more dying kids in the next six years!"



Cena: "as a marine I never quit I never STOP!"



Cena: "It's my duty to serve man I step up everyday!"



Brock Lesnar's theme hits



Lesnar takes down Cena



Cena gets out of the ring



Lesnar: "I don't care about kids or these people John I care about beating people up!"





Hulk Hogan: "Listen here maniacs six years, Well my maniacs remember a few years ago the maniacs ran wild when I started my own promotion!"



Hogan: "Well maniacs that was the old me the new me reads the secret every morning jack, I think postive!"



Hogan: "And one dude I'm getting good vibes from is Kamalao!"



Kamala's theme hits



Kamala: "It's a honah to help ya hoganster!"



King Kong Bundy's theme hits



Bundy: "Can you trust him?"
Hogan: "Yeah the brother was made the ill fated Hogan wedding dude!"



shoulder block to Hogan



Kamala takes down Bundy



Kamala holds Bundy down for the leg drop



Daniel Bryan: "Punk left us we need another member to face those jokes."
Bret Hart: "I can always call Sami Zayn or Die Hard Eddie Edwards?"



Bryan: "Naw we need someone who has the best workrate someone who has wrestling infused in DNA!"
Hart: "hmmmm maybe someone from Japan?"



Bryan: "YES! YES! YES! YES!"



Tony Chimel: "The winner of this battle royal will get a match for the vacated Texas title!"



big kev boot to hulk



big kev boots skelton warrior out



Andre throws out Nash



Nash grabs Andre



HTM and oreo throw out Andre



Andre and Nash trade punches



Oreo throws out Hulk



HTM kicks Oreo in the balls



HTM throws out Oreo



Nash grabs HTM



HTM is gone
WINNER: OREO



Oreo: "I'm winning that title back for my fans who I love with my heart!"



Mike Tenay: "We gotta go to the back!"
Don West: "Hurry man HURRY!"





Bill Rock: "This is Bill Rock host of Fun Friday the longest running episonic E-Fed to share with you a Fun Friday memory.
Hello Bill,
I've been working this show on the internet which has been going on for six years and 350 episodes.
I wonder why I do it every week? It seems I have wasted my life producing these episodes.
I could've been out meeting somone or doing something productive instead I'm here wasting my time.
Why I ask. Why? What did I do? Come to think if it maybe I deserve it I've been making a certain Radio DJ read fake emails every week.
I email this DJ thinking Maybe if I can be like that certain radio DJ maybe people would like me?
(I wonder who that is? Is that me?) Bill please help me. My life is fucked.
Sincerly,
Joe Laracuente
Well Joe HAHAHAHA I don't know what to tell you maybe try expressing your anger into something like an E-Fed or try emailing that DJ
I'm going to play a song for you I find it fits here I'm going to play I believe for you because I believe in you."