Mean Gene: "Happy Fourth of July I have som big news for everyone.."



Gene: "The title match is will be in a CAGE! The only way to win is to escape the cage!"



The Midnight Rider: "Gene, dats fine da Midnight Rider is used to climbing out of houses and jails daddeh. Remington is gonna show mah people how da Rider looks with da gold!"



Midnight Rider: "Midnight Rider blazed the trail with Lewis and Clark and da Midnight Rider stood shoulder to shoulder with Travis in Texas And da Rider rode with the Seventh when Custer went down."



Oreo: "A CAGE? I've never been in a cage! This wasn't announced ahead of time!"



Oreo: "This isn't fair!"





Brock Lesnar's theme hits



Midnight Rider's theme hits



Midnight Rider: "Dis is for da countree you see Louis L'Amour is gonna tell dem all about da midnight Ridah's tale!"



Midnight Rider hits Lesnar with a chair



Oreo's theme hits



hits Lesnar with the title



Midnight Rider hits Oreo with a chair



Midnight Rider climbs the cage



Lesnar take the rider down



Lesnar punches Oreo



eye rake to Lesnar



boot to lesnar



Oreo hits rider with a chair



slaps the rider



Oreo climbs



Lesnar grabs Oreo



suplex off the cage



Lesnar climbs



Lesnar and rider land on Oreo



Rider climbs



Lesnar grabs Rider



both climb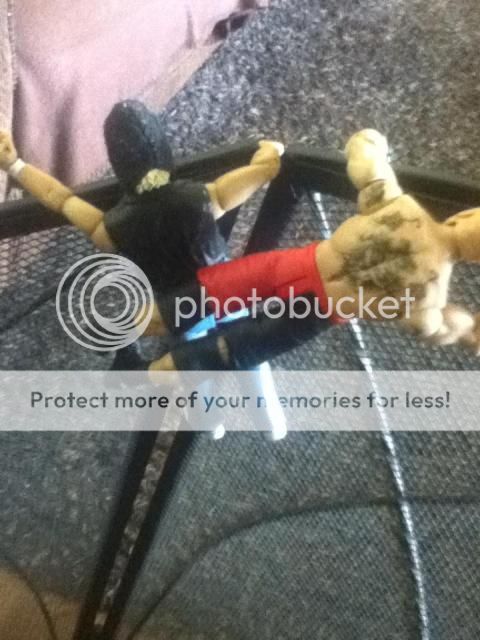 Oreo climbs on the other side



Lesnar grabs Oreo



F5 off the top of the cage



Oreo falls



Rider punches Lesnar in the balls



Rider climbs down



Lesnar grabs the midnight rider



Midnight Rider and Lesnar both fall



Midnight Rider's feet touch the floor!
WINNER AND NEW FUN FRIDAY CHAMPION: THE MIDNIGHT RIDER



Bill Rock: "I hope everyone had fun!"