The Freak: "The Freak is HEREEEEEEEE! I wanna say to all my little freaks.. Freaks RULE!"



Freak: "If you get called a freak in school it's now a good thing you can say your apart of the Freak Empire!"



Freak: "This Freak is going after the Fun Friday title!"



Midnight Rider: "I don't think so daddeh!"
Freak: "Look This Freak isn't taking no for an answer!"



Freak: "I'm a FREAK not only in this ring but outside the ring!"
Rider: "Listen here daddeh I don't know who you are or where you come from.."



Freak: "The Freak is a former SEAL and I served this country!"



Freak takes down the midnight rider



The Freak goes for the STF on the rider



Midnight Rider hits The Freak with the knightstick



Arcidi: "Once I win the Texas title I'm going to eat it like Texas Toast!"





Wade Barrett: "If you think I'm going to lose this title to a second rate knock then I'm afriad I''ve got..."



Barrett: "SOME BAD NEWS! I WILL RETAIN THIS TITLE! The title named after a man who was president of this country George W. Bush!"



Barrett: "Yeah George W. Bush Remember him? HAHAHA and you Americans hate Obama HAHAHAHA!"



Arcidi: "I love this country and the cream filling inside it!"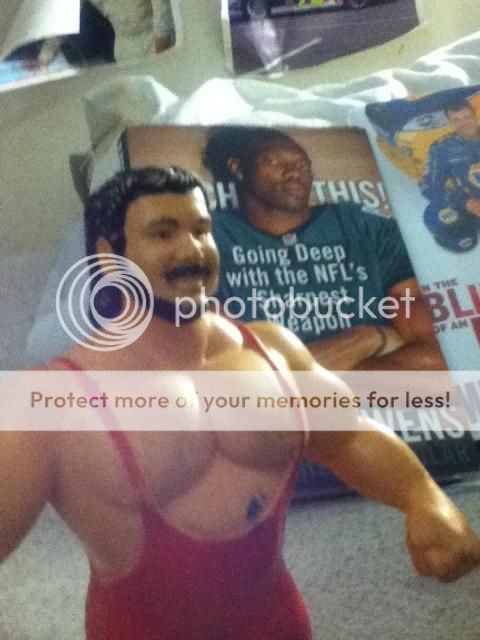 punches Arcidi Arcidi no sells



more arcidi no selling



punch to barrett



big boot to barrett



leg drop off the top



1....2.............



Barrett kicks out



Arcidi no sells a shoulder block



DDT to Barrett



1..............2................



Barrett kicks out



Shell Shock to Barrett



Arcidi: "FEEED MEEE MOOOOOOOREEEEEEEE!"



Arcidi: "FEEEEEEED MEEEEEEE MOOOOOOOOOOOREEEEEEEE!"



It's Ryback!!!! Ryback: "The Big Guy is finally here! FEEED MEEEEEE MORE!"



Ryback: "FEEEEED MEEEE MOOOOOOOOOOOOOREEEEEEE!"



1..........2........



............3
WINNER AND STILL TEXAS CHAMPION: WADE BARRETT



Bill Rock: "I hope everyone had fun!"