Mean Gene: "Welcome everyone to Fun Friday's 400th episode! In honor of the 400th episode we will have two battle royales and the winners will face each other in a one on one match!"



Mean Gene: "Lets get to the ring right now!"



Tony Chimel: "The following is the Rumple match!"



Road Dogg: "OHHHHH YOU DIDN'T KNOW? WELL WE ARE HERE TO GET A POP!"
Billy Gunn: "AND IF YOUR NOT DOWN WITH THAT WE GOT TWO WORDS FOR YAAAAAAAA..."



Gunn: "SUUUUUUUUUUUUCK IT!"



Ryback throws the outlaws out



Ryback: "THIS IS HOW YOU DO THIS MOVE!"



Shell shock to arcidi



arcidi is out



AJ kicks butch in the balls thus eliminating him



Fandango kicks Jeff out



dragon sweep to fandango



boston crab to Rey Mysterio



AJ: "Ohhh you are sooooo good looking. I want to kiss you!"



AJ kissses Rick Martel



dolph drop kicks martel out



Ziggler: "I'm the ONLY SHOW OFF!"



Bret throws Marty Jennity out



Rey dives



Smash catches Rey



Smash throws Rey out



low blow to Smash



Fandango kicks Smash out!



AJ: "Oh hi Mr. Dance man!"
Fandango: "THATS FAAAAAAAAAAAAAAANNNNNNNDANNNNNNGOOOOOOOO!"



AJ: "LETS MAKE OUT!"



AJ kicks Fangando in the balls thus eliminating him



FINAL 4!



Bret: "I'm here to fucking wrestle who wants to WRESTLE?"



Bray: "Father should I wrestle him?"



AJ: "Lets make out!"



both make out



Sister abigail to bret



Bray throws Bret out



Bray: "I never got any man I was always caled UGLY!"



Bray throws both over



bray: "I'm going to do it for you PAPA!"





Tony Chimel: "Let match two begin!"



all gang up on the alligator



Kofi Kingston: "Oh what a time for a catch spot!"



Dusty Rhodes: "Let the sucka fly 15!"



catch spot with Kofi



Alligator is out



Erick Rowan throws out colin Delaney



Kamala throws out Skelton Warrior



Rock clotheslines Jeff Jarret out



Rock also clotheslines Eric Young out



Ric flair low blows Goldust



ric flair chop blocks dusty dusty hits goldust with the hammer thus eliminating him



Dusty throws out ric



The Usos: "WE GOTTA DO A SPOT!"



The Usos: "WERE STILL IN IT WHEN I SY OOOUUU YA'ALL SAY OOO-"



Goldust grabs a doorstop



the usos fall



the usos are eliminated!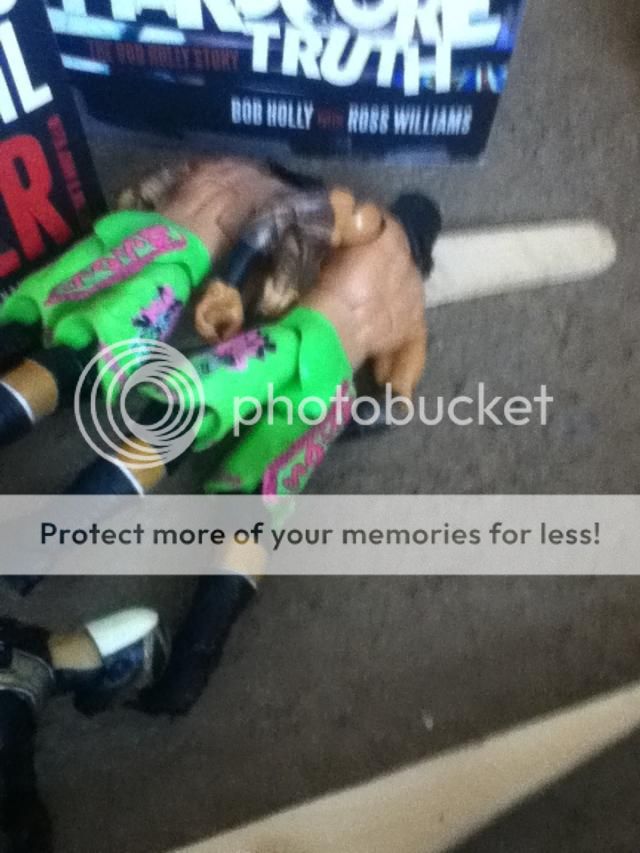 Rock clothelines flair out



dusty hits kamala with a hammer and eliminating him



Rowan: "Have you tried any of my wine?"



Rock throws out Rowan



FINAL 4!



Rock boot to Kofi



Rock bottom to dusty



Rock throws Dusty out



Oreo helps rock throw Dusty out



Rock: "The Rock doesn't need any help!"



Rock: "The Rock will it ALL! HIT IT STRONG HIT IT FAST!"



Rock picks up the ladder!



throws kofi out!



Rock: "The Rock says... JUST BRING IT!"



Rock: "The Rock wants to let Bray Wyatt know that the rock is going to win!"



Rock: "The Rock thinks Bray Wyatt is a 33 pound pile of goose or geese SHIT!"

\

Bray: "Be careful what you wish for..."



Bray goes for a sister abigail



sister abigail to Rock



Rock lands on a chair



1......2..........

\

Undertaker: "I have riseeeeeeeennnnnn....."



Bray: "Papa what should I do?"
Undertaker: "..........run!"



tombstone to bray



Undertaker: "DEATH WILL RUN IN THE FAMILY!!"



Undertaker: "PAPA SHANGO....REST IN PEEEEACEEEEEE!"



1..........2...........



.............3
WINNER OF THE 2015 RUMPLE: THE ROCK



Rock: "The Rock told all of you trailer park trash! The Rock dedicates it to the millions and MILLIONS of The Rock's fans!"



Rock: "The Rock is now calling out that Goro look alike yeah THE BITCH Brock Lesnar!"



Rock: "The Rock will not only win the title the Rock will win it for the PEOPLE!"



Rock: "IF YAAAAAAAAAA SMEEEEEEELLLL WHAT THE ROCK IS COOKIN!"



Bill Rock: "Thanks for 400 episodes! I hope everyone has had fun!"