Mean Gene: "WELCOME EVERYONE! This is the 2016 Rumple! My guest at this time The Prototype..."



Mean Gene: "Now you are about to enter in the Rum-"



Lesnar chokes Prototype



spear to Colin Delaney



suplex to Colin



Brock: "YOU AINT IN SHIT!"





Tony Chimel: "THE FOLLOWING MATCH IS THE ANNUAL RUMPLE MATCH! The winner receives a Fun Friday title match!"



everyone throws out Bray Wyatt



Akeem throws Bo Dallas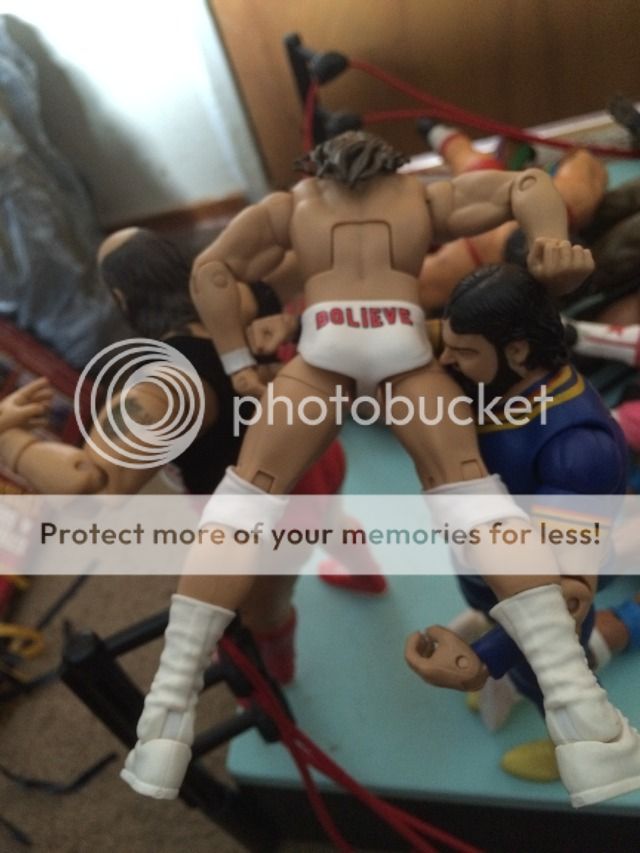 Earthquake: "FAT WORLD unites!"



all 3 take out Miz



Earthquake throws out Fandango



all 3 men throw out Kofi Kingston



all 3 throw out Arcidi



Rikishi: "ALLL AAAAABORD THEEEE FAAAAAAT TRAIN!"



Reigns spears the FAT TRAIN



all of fat world fall out



Batista throws out Sandman



Reigns throws out Rocky Mavia



The Usos: "ouuuuuuuuuceeeeeeeeeee OHHHHHHHHHHHHHHH!"



usos dive



Reigns superman punches usos in mid air



Reigns throws out both Usos



The Hart family throws out Kamala



the babyfaces throw out the harts



Ric Flair low blows Reigns



The Four horsemen jump Reigns



The Four horesmen throw out Reigns



Reigns lands face first into the rocking chair



Ric Flair: "On three....... One.. two.... Threeee!"



The horsemen all go out at the same time



Tony Chimel: "YOUR WINNER OF THE 2016 RUMPLE CHARLOTTE!!!?"



Ric: "YES! MY BABY GIRL DID IT!"



Ric: "Sting, you have no choice but to face Charlotte!"



Ric: "You have to deal with the horsemen Sting and if you thought that parking lot beatdown was something you ain't seen nothin yet!"