Mean Gene: "Happy Easter my guest at this time... It's Bayley!"


Bayley: "Gene, I want to thank all my fans for supporting me and I know I'm here to WRESTLE!"



Bayley: "I feel great I'm great! Just great. Really great! Oh, maybe I should have a match next week?"



Niki Bella: "Well if you want a match We are BELLA STRONG!"
Brie Bella: "BRIEEEEEEEEE MODE BITCH!"



Nikki slaps Bayley



eva marie takes down nikki



Lana: "Brie you are a number one BITCH! I HATE YOU!"



Summer Rae Paige and Viki jump Bayley



Sting: "Thanks for allt the help guys I want to let you know when I face Charlotte I'm doing this BY MYSELF! YEAH IT WILL BE SHOW TIME!"



Ric Flair: "Ya know Charlotte the plan is in motion. Every Horsemen or horsewomen have plans and schemes."


Charlotte: "Dad are you sure this will work?"
Ric: "Charlotte how do you think I got out of those divorces I have a plan."


Bret Hart: "We have a 5th man come on out!"



Brock Lesnar's theme hits



Lesnar: "Get those assholes out here so I can beat the PISS outta them!"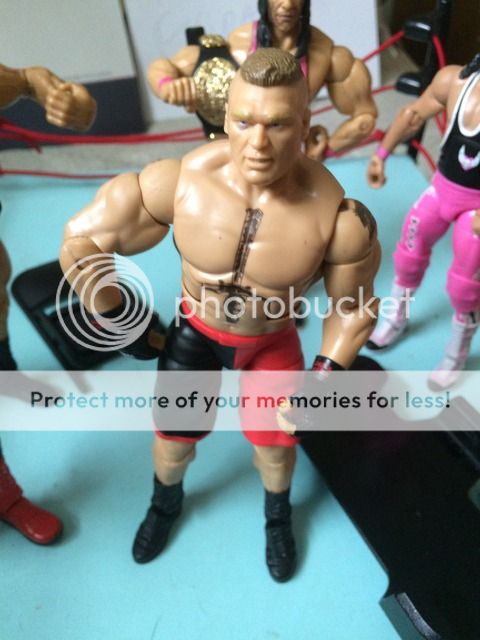 Tony Chimel: "Here comes TEAM BABYFACE!"



The prototype jumps Lesnar



Reigns spears Bret Hart jr



Oreo chop blocks Bret Hart



double bear hug to Goldust



double power bomb to Goldust



F5 to Oreo



2 on 1 to Kamala



Reigns spear to Lesnar



Bret hits Kamala with the Texas title



another Reigns spear to Bret Jr



Batista sr pile drives Kamala



Prototype hits Batista sr with the chair



Prototype: "This is a free sample!"



Oreo hits Bret sr with an otter box



F5 to Prototype



1...........2.......



Lesnar kicks out



yet another Reigns spear to Bret jr



1.......2.......3
WINNER: THE BABYFACE TEAM



Prototype hits Lesnar



Reigns: "I will reign all over that Texas title!"
Prototype: "Lesnar it's payback time! THIS TIME IT'S PERSONAL!"