Charlotte: "Whats causin all this?"
Ric Flair: "It's MY daughter Charlotte da World Champ da champ!"



charlotte: "Look around and what do you see? you see GREATNESS!"



Ric: "WHOOOOOOOOOOOOOOOO!"



Ric: "Of course I have to thank the horsemen!"



Bayley's theme hits



Bayley: "Hold on a minute, Charlotte you got that by CHEATING!"



Charlotte: "Yeah and your point is?"
Bayley: "I challenge you to a one on one match and NO cheating for your title!"



Charlotte: "YOUR ON!"
Ric: "Guys get her!"



Arn and Tully chase Bayley to the back





Bray Wyatt: "Last week my father turned his back on the dark side!"



The Godfather's theme hits



Godfather: "Listen I'm your father but I'm the Godfather!"



Wyatt: "Why? Why? Why?"
Godfather: "Listen son you got a problem with this? maybe it's time for tough love."





Tony Chimel: "Currently in the ring from New York... The Sandman!"


Kamala's theme hits



Kamala takes down Sandman



Kamala goes for the leg



half crab to Sandman



Kamala botches



Sandman gets to the ropes



Kamala: "AIR AFRICA flights are ready!"



1..........2..........



Sandman kicks out



Sandman gets a chair



hits Kamala with a chair



White Russian leg sweep to Kamala



both fall



Kamala hits Sandman with a chair



Air Africa to Sandman



1.............2.........



..................3
WINNER AND NEW NUMBER ONE CONTENDER FOR THE TEXAS TITLE: KAMALA



Kamala: "Reigns, I know you watched dat and well It's Kamala time now!"
Oreo: "Just push it!"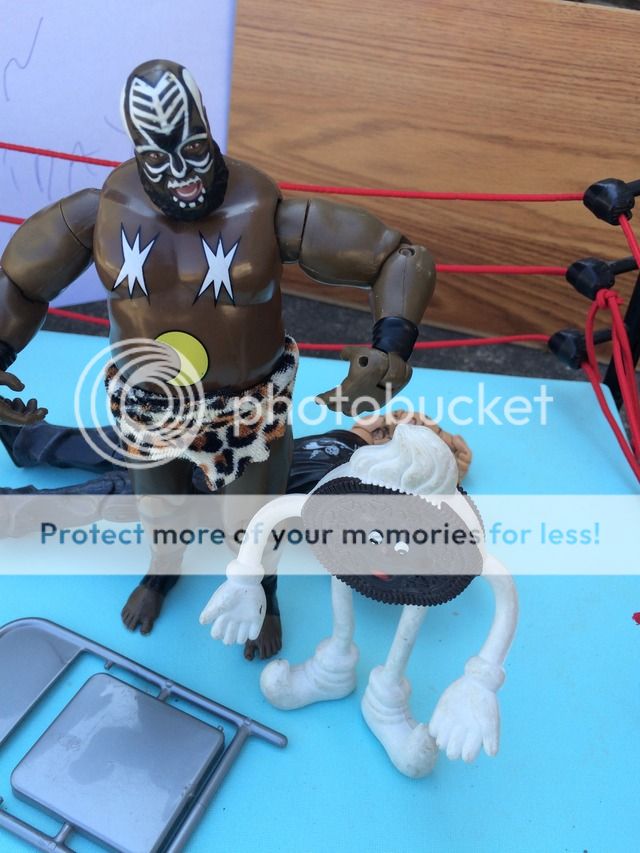 Tully Blanchard: "Whats a matter bitch why are you laughing?"



Sting hits Tully with the bat



Bill Rock: "I hope everyone had fun!"