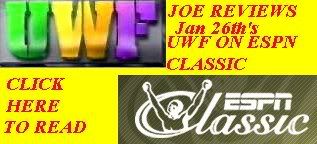 UWF ON ESPN CLASSIC JAN 26TH

This was a re-run from a few weeks ago
Dr. Death Steve Williams vs. Davey Meltzer
Thankfully this match is on you tube and can be seen here:


Commercial

Colonel Debeers v. Michael Allen
elbows to Michael stomps to Michael
atomic drop to Michael clothes line to Michael
dropkick to debeers
slam to Michael 1,2 debeers picks him up
into a State of Emergency (DDT) 1,2,3 WINNER: COL Debeers

commercial

cactus Jack vs. David Sammartino
Cactus Jack has braids what was Mick thinking?!
chops to Cactus and David slaps Cactus multiple times in the face
armbar to Cactus

commercial (BTW it's for mighty putty)

knee to cactus' back
armbar to cactus
clothesline to David
Commercial

suplex to from the outside the ring to the inside to David
chinlock to David
atomic drop to David
suplex to David
chops to David
small package to Cactus 1,2 kick out
neckbraker to David
eye rake to David
Cactus headbutts the referee
WINNER VIA DQ: DAVID SAMMARTINO


SHOW #2

(THEY SHOW THE WORST/BEST OPENING TWICE)

Brain Blair vs. Ricky Atoki
roll up to Ricky
armbar to Ricky
clothesline to Ricky he goes out of the ring and the back of his head hits a chair
suplex to Ricky
slam to Ricky
the scorpion (sharp shooter) to Ricky
WINNER VIA SUBMISSION: B. BRAIN BLAIR

Commercial

Captain Lou's Corner
Lou puts over UWF and how it's the best!
Then comes in Bob Orton Lou is putting over bob Orton
Bob Orton says he ready for a good challenge

Commercial

Billy Jack Haynes vs. Larry Lebbin
leg take down to Larry
drop toe hold to Larry
slam to Larry
legdrop to Larry
slam 1,2,3 WINNER VIA PIN FALL??? BILLY JACK HAYNES

Commercial

Paul Orndorff vs. Steve Williams
Steve Williams theme is bad to the bone by George thurgood LOL
knees to Orndorff
sunset flip to Steve
commercial

tackle to Orndorff
on the bottom of the screen it says: "UWF wrestling Paul Orndorffer vs. Billy Jack Haneys"

elbows to Steve
bear hug to Orndorff
low blow to Steve
they both leave the ring Orndorff chokes Williams with a cord
DOUBLE COUNT OUT
Wait the show ain't over a Luna vashon promo man she sounds like she got done smoking a carton of cigarettes
annnnd the opening again and that's the show!
OVERALL: Well they aired this episode a few weeks ago and well I wasn't thrilled for this episode and I have seen parts
of this episode before so I wasn't really into it, LOL I will say it still sucks, yet I love it, I love UWF!